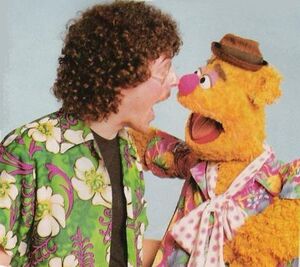 Alfred Matthew Yankovic (b. 1959), widely known as "Weird Al" Yankovic, is a veteran comedy musician and acclaimed parody artist. With over twelve albums, a full career spanning more than 23 years, and three Grammy awards, Yankovic is one of the best-known comedic musical performers in the world. In total, Al has sold more than 13 million albums, making him the biggest-selling comedy artist in music history.
Yankovic was the subject of a feature article, and cover line, in the Fall 1984 issue of Muppet Magazine. In the article, titled "Wocka, Wocka! It's Weird Al Yankovic!", Yankovic was interviewed by fellow comedy legend Fozzie Bear. In the article Yankovic talks about his start in performing, breaking into the music industry and his view on his success. Fozzie Bear states that his favorite of Yankovic's parodies is "Eat It" (a parody of Michael Jackson's "Beat It"). The article, however, incorrectly referred to Yankovic's song "My Bologna" as "My Baloney!". The article was one of the selected articles later republished in the book The Best of Muppet Magazine.
A clip from Yankovic's 1984 music video for his song "Eat It" was featured in an episode of Muppet Babies, "Twinkle Toe Muppets". The episode credits however misspelled Yankovic's name as "Wierd Al" instead of "Weird Al". Another of Yankovic's music videos (for his song "You Don't Love Me Anymore") was filmed at Charlie Chaplin Studios in Los Angeles, California. The studio was later purchased by The Jim Henson Company.
In 1994 Yankovic's song "Bedrock Anthem" (a parody of two Red Hot Chili Peppers songs) was featured on the soundtrack for the feature film The Flintstones, which featured characters and effects by Jim Henson's Creature Shop. Although the song was not heard in the film, the song was featured on the album soundtrack, as well as on Yankovic's album "Alapalooza".
As a connoisseur of pop-culture, "Weird Al" has declared his inner-Muppet inclinations on several occasions - including a Dec. 26, 1999 LAUNCH.com chat:
Beavinator1: Al, if you were one of the Muppets which one would you be?
"Weird Al": LOL. I suppose Beaker.
Speaking with NPR's Tamara Keith, Yankovic commented on other pop culture parodies:
NPR: There was a time the "Weird Al" parody was it. And now, Cookie Monster has done a version of Carly Rae Jepsen's "Call Me Maybe."
Yankovic: Yeah, Cookie Monster is my No. 1 competition right now. Actually, I don't view it as a competition at all. I think it's wonderful that there's a level playing field now.[1]
Muppet Mentions
Yankovic's 1985 song "Yoda", a parody of "Lola" by the Kinks about the Star Wars character Yoda, features a minor Muppet mention:
"Well, I've been around, but I ain't never seen a guy who looks like a Muppet, but he's wrinkled and green."
Weird Al's 1999 promotional television special "ALTV" on MTV featured an Al News segment where Yankovic announced the long-winded title of Fiona Apple's new CD. The fictional album title included a reference to Sesame Street's classic song "C is for Cookie".
"Hot on the heels of latest efforts, Fiona Apple has released yet another album. This one's called "I think I will never see a poem as lovely as a tree, chapter one call me Ishmael, some years ago never mind how long precisely having little or no money in my purse, hey who took my rice cakes, does anybody have a watch, what time is it, does anybody really know what time it is, does anybody really care, well it was the best of times it was the worst of times, cause all we are is dust in the wind, and did you ever think how like maybe our entire universe is really just a molecule in God's toenail, this world is a bunch of B.S. anyway, the important thing to remember is be your own person wear what you want to wear, if you feel good in a tube top you go girl, lather rinse repeat lather rinse repeat, I need to get toilet paper orange juice sunflower seeds Pepto-Bismol and more rice cakes, don't forget dentist appointment at 2:30, dear Cosmo my boyfriend won't leave me alone when I'm trying to come up with a album title, cut it out Paul, I'm trying to write here, I mean it cut it out, would you get the phone I'm busy, C is for cookie and that's good enough for me, shemalama ding-dong yabba dabba do zippidy do da zippidy ay, if you believe in peanut butter clap your hands, does this dress make me look fat, I'm not going to pay a lot for this muffler" - on sale Tuesday."
Yankovic's 2003 song "Couch Potato", a parody of Eminem's "Lose Yourself", features a reference to The Muppet Show in the lyrics:
Page 29 of "Weird Al: The Book" mentions that Yankovic's drummer, Jon "Bermuda" Swartz, is not like the average drummer, stating that drummers are "supposed to be like Animal from The Muppet Show."
On June 16, 2014, Yankovic appeared on Epic Rap Battles of History as Sir Isaac Newton where he went head to head with Bill Nye (portrayed by Nice Peter) and Neil deGrasse Tyson (portrayed by Chali 2na). In the first verse, Yankovic sang "Of all the scientific minds in history, they put Beaker in a bow tie up against me?"
Connections
Artists Parodied:
Song Subjects:
Celebrities:
Sources
External links