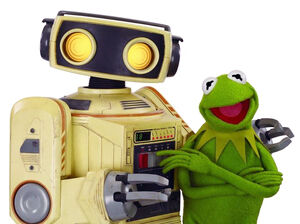 '80s Robot is a robot character who debuted in the 2011 movie The Muppets. Unlike the principal Muppet characters, '80s Robot was designed and built by Legacy Effects. He lives in Kermit's mansion, working as a valet or manservant to Kermit after the break up of the Muppets.
'80s Robot also functions as a chauffeur, and uses his databanks and search engine to locate the Muppet troupe using a dial-up modem. He uses slang from the era, and offers such dated beverages as Tab and New Coke to those he meets. As his name implies, the character resembles the many robots who dominated the toy, novelty, and pop culture landscape in the 1980s,[1] which include the Omnibot 2000 made by Tomy, and Nintendo's ROB accessory.
In an interview with The Magazine, Kermit talked of '80s robot's career:
Q: After the film, who got possession of the '80s robot?
A: Possession? Oh no one "owns" the '80s robot. He's independent, has his own agent and publicist and everything. From what I understand, he's reading scripts and looking for his next project, which I suspect will be a remake of a sci-fi hit from the '80s.
'80s Robot also made brief background appearances in the 2014 film Muppets Most Wanted. He was featured most prominently singing "Together Again" in the finale, and in a scene with Dr. Bunsen Honeydew and Beaker in which he's strapped down that was deleted from the final cut.
His legacy is evident in the creation of 1880s Robot, an automaton from one century earlier, who appeared in the My Muppets Show app-based video game.
Notes
In the screen credits and other press material, the character is listed as "80's Robot," incorrectly marking the decade as a possessive rather than an abbreviated adjective.
Sources