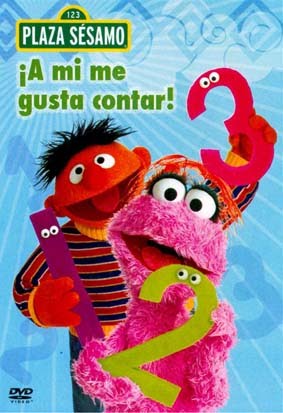 | | |
| --- | --- |
| Release Date | 2008 |
| Produced by | Ventura Entertainment |
| Format | DVD |
| Discs | 1 |
| Region | 1 |
¡A mi me gusta contar! is a Plaza Sésamo video released in 2008 that focuses on counting.
Segments
Hazlo Tu Mismo: Hide and Seek
Elmo counts 10 fingers.
Cartoon: Hortense beats 1 drum.
Cartoon: One ice skater.
Song: "Two, Me and You"
Cartoon: Two kids blow up a 2.
Animation: Three fish
The Rainbow Fish referees a race between 3 seahorses.
Animation: 4s fly by
Pancho sings a 50s rock song about counting to 4 ("Los Numeros").
Film: Four Chinese acrobats do stunts with giant spools.
Cartoon: Fives in space
The Rainbow Fish counts groups of 5 in the ocean.
Film: Six Wegman dogs
Lola displays 6 cats.
Film: Six kids dance in six blocks.
Number of the Day: The Count discovers the number of the day is 7.
Cartoon: Seven kids build a 7.
Modesto Microfono reports that the Barón Púrpura will make an 8 with his airplane.
Cartoon: Captain Spacey counts 8 planets.
The Count sings "Cloud Nine."
Cartoon: Nine bakers
Pancho hires a singer to sing at La Abuela's birthday, but the man "cuenta" (counts) instead of "canta" (sings).
10 Faces (kids, Pancho, Lola, Abelardo, Multimuppets and a Multimonstruo)
Elmo and Zoe figure out how to draw a 10.
Cartoon: "Budgie #10 - Song"
Ten characters (all played by Adal Ramones) pile into an elevator.
Lola, Abelardo and Pancho play hide and seek, but Lola has a hard time counting.
Community content is available under
CC-BY-SA
unless otherwise noted.