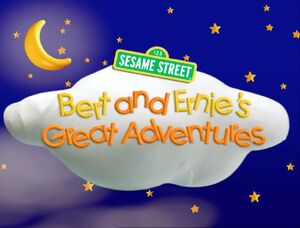 Ævintýri Berta og Árna (The Adventures of Bert and Árni) is the Icelandic dub of Bert and Ernie's Great Adventures.
The show premiered in November 10, 2013, on RÚV. The dubbing was done by Studio Syrland in Reykjavik.
The title card was not localized.
Character Translations and Voices
Additional voices
Sigríður Eyrún Friðriksdóttir
Víðir Guðmundsson
Orri Huginn Ágústsson
Inga Maria Valdimarsdóttir
Additional credits
Translation by: Guðfinna Rúnarsdóttir.
Dubbing Director and Project leader: Rósa Guðný Þórsdóttir.
Technicians: Baldvin A.B. Aalen, Friðrik Sturluson, Ívar Baldvin Júlíusson.
Dubbing Studio: Sýrland
Community content is available under
CC-BY-SA
unless otherwise noted.