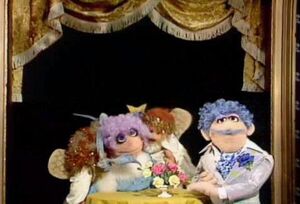 "(They Long to Be) Close to You" is a song written by Hal David and Burt Bacharach, and originally recorded by The Carpenters in 1970. The Carpenters' version, with Karen on lead vocals and Richard providing the harmony, was a major hit in 1970 and spent four weeks at No. 1 on the Billboard Hot 100.
On The Muppet Show, "Close to You" (as the song is sometimes known) is sung by Connie Stevens to Kermit and Fozzie during the Talk Spot in Episode 102. This was the only Talk Spot in the first season to use a couch instead of a wall as the set.
The song was also performed in episode 505. As a male Muppet sings the song to his lady friend, the birds, stars, and angels mentioned in the lyrics appear—and then get stuck to the woman.
Johnny Fiama also sang this to Clarissa during his restaurant set love song in episode 104 of Muppets Tonight.
In 2000, Marjolein Keuning sang "(They Long to Be) Close to You" with Kermit (here performed by Steve Whitmire) during a Dutch television special honoring the 75th anniversary of KRO, the network that aired The Muppet Show in the Netherlands.
The song was spoofed on Sesame Street in episode 3538 as "Near to You." This song was also featured in MirrorMask.