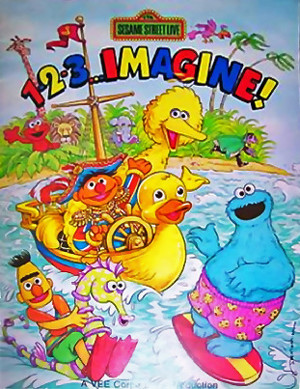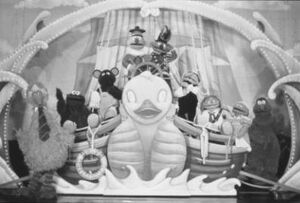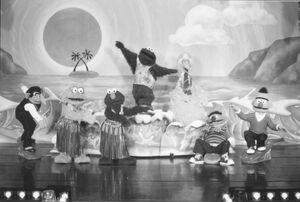 1-2-3 Imagine! is a Sesame Street Live show originally produced in 1996 by VEE Corporation. It was repeated in 2002 and 2005. In 2009, it was revived again, retitled 1-2-3 Imagine! with Elmo & Friends, for the 30th anniversary tour of Sesame Street Live.
Sam the mail carrier visits Sesame Street to deliver postcards. Knowing the Muppets miss their pen pals, Sam shares the secret that they can visit distant places if they use their imaginations. Rosita goes to Mexico for a special birthday fiesta with her abuela; Ernie becomes captain of the Good Ship Rubber Duckie; and Elmo plays drums in an African rainforest.
Sam, or "Samantha", is the only human character to appear in the Sesame Street Live show 1-2-3 Imagine! Originally portrayed as a man in the 1996 show, the revised version has the role being taken over by a woman. Sam is the mail carrier on Sesame Street, and delivers mail to Big Bird and friends. She is the show's only "miked" performer.
With the exception of Baby Bear, no other Sesame Street character stayed in full costume throughout the whole show. Each of the Muppets' performers played at least one minor character in the show. For example, Big Bird's performer played a dancing octupus in Bert's underwater scene, while Elmo and Zoe's perfomers also played the extra fish. Another example is Barkley's performer playing Uncle Grizzly during the camping scene.
Cast
Big Bird, Oscar, Elmo, Zoe, Rosita, Barkley, Roxie Marie, Bert, Ernie, Cookie Monster, Baby Bear, Grover, Prairie Dawn, Honkers, Jodie, Samantha, Aunt Ursula and Uncle Grizzly
Note
Performers
Todd Alan Crain - Sam the Postman
2009 cast
Songs
For a soundtrack listing of the 2009 revival, see 1-2-3 Imagine! with Elmo & Friends (soundtrack)
Sources
↑ Kim Kimzey, "'Sesame Street' is fun for all: Performer says joy is in seeing families bond", the Spartanburg Herald-Journal, December 10, 2009.
Community content is available under
CC-BY-SA
unless otherwise noted.