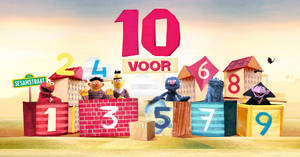 10 voor... is a Sesamstraat mini-series that debuted in January 2014.
Each episode of the 10-minute series focuses on a certain Sesame Street Muppet (Ernie and Bert, Elmo, Grover, Cookie Monster and The Count), showing two to four inserts of them. In-between the inserts are scenes with Pino, Ieniemienie and Tommie talking with kids, along with other animated, film and Muppet inserts.
Beginning in the fall of 2014, "Elmo the Musical" began airing as a part of the series. In 2015, the series started incorporating newly produced segments called "Elmo's Quiz," where Elmo (performed by Jogchem Jalink) hosts a mobile game show with the Sesamstraat Muppets as contestants. In summer 2015, the series added installments of the Sesamstrasse mini-series, Ernie & Bert Märchensongs (dubbed into Dutch). In January 2016, the series added locally-produced Ernie and Bert sketches into their rotation.