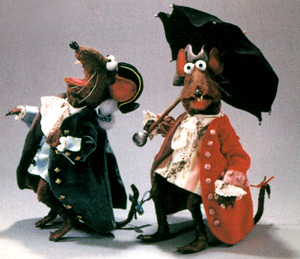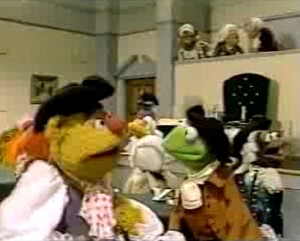 1776 is a musical written by Sherman Edwards and Peter Stone which opened on Broadway in 1969 and was adapted into a film version in 1972. It tells the story of the American colonies' Second Continental Congress in the days in which its members would debate upon the conditions of declaring independence from England. Historically, the script attempts to depict an accurate portraiture of the events, having used texts and documents from the time including transcripts and letters written by those involved, all amongst a myriad of songs, monologues and heated (sometimes deliberately comical) debate. The three central figures are John Adams, Benjamin Franklin, and Thomas Jefferson.
References
In 1982, the Muppets would spoof the musical in a segment filmed for the I Love Liberty television special. Kermit identifies their play by name as 1776 (and the closing credits identify it as "based on the play.") Muppets play historical characters who specifically use dialogue from the play (such as "Are you calling me a madman, you fribble!") and recreate scenes such as a brawl between John Adams and John Dickinson after a volley of name-calling. The scene ends not in a song from the musical, but with a rendition of "Brotherhood of Man" from How to Succeed in Business Without Really Trying.
Writing credits for the Muppet segment were given to Jerry Juhl and Peter Stone, who wrote the book for the musical 1776.
Muppets 1776
A list of in development or proposed Muppet projects by the Jim Henson Company as of 2004 (when they sold the Muppets to the Walt Disney Company) included "Muppets 1776." It was identified as a treatment in a list of "long form and feature scripts," along with other historical or literary concepts such as "Muppet Camelot" and "Muppet Robin Hood." It's unclear from the list to what extent the treatment referenced the original musical, or merely the title and concept of the Muppets in an American Revolution-era plot.[1]
Connections
Sources
↑ Muppet Development sheet. Schedule A. The Jim Henson Company. Part of 2004 documentation included in sale to Disney.
External links
Community content is available under
CC-BY-SA
unless otherwise noted.