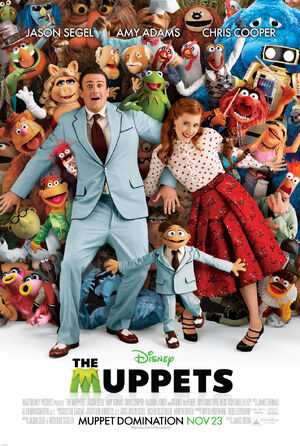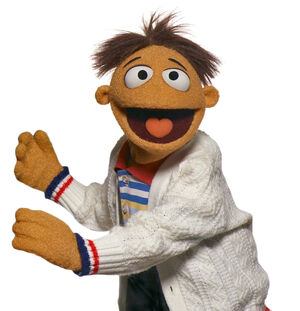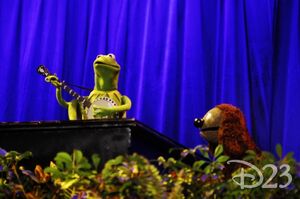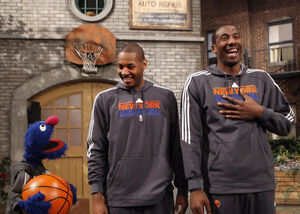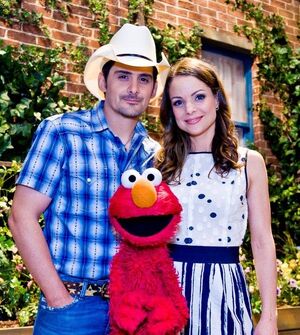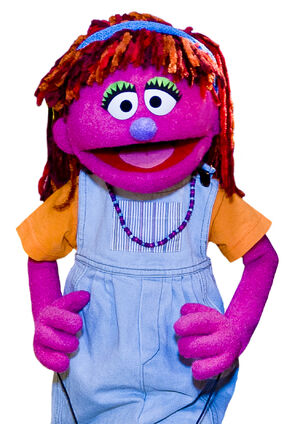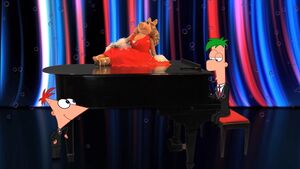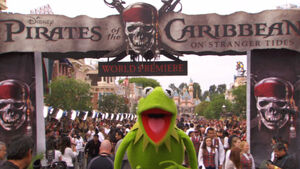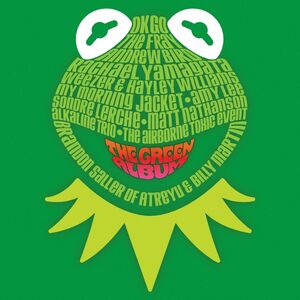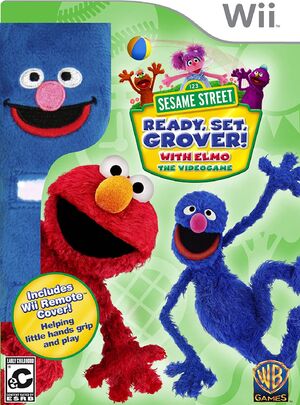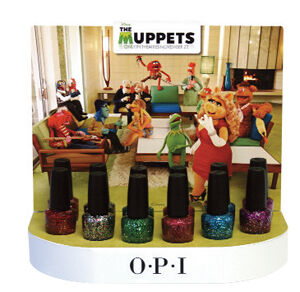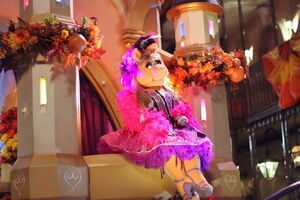 Television & Movies
International Television & Movies
Sesamstraat celebrates its 35th season
Sesamstrasse 38th season
Eine Möhre für Zwei 2nd season, premieres October 19 on KI.KA
The Muppets is released in Canada, November 23
SimSim Humara premieres, Pakistan, November 26
Baghch-e-Simsim premieres, Afghanistan, December 1
The Muppets is released in Brazil, December 2
Ernie & Bert Songs premieres December 5 on KI.KA
The Muppets is released in United Arab Emirates and Bahrain, December 9
Ernie & Bert Märchensongs premieres December 13 on KI.KA
The Muppets is released in Bahrain, Kuwait and Lebanon, December 15
The Muppets is released in Chile, December 29
The Muppets is released in Estonia, December 30
Commercials
Appearances
Elmo, Cookie Monster, and Telly on Top Chef, February 16
Elmo on The Dr. Oz Show, March 30
Elmo on Late Night with Jimmy Fallon, May 3
Kermit the Frog reports from the world premiere of Pirates of the Caribbean: On Stranger Tides at Disneyland, May 7
Elmo on Good Morning America, May 20
Grover at the Salute to Israel Parade, June 5
Elmo at the NASA shuttle program of Cape Canaveral Air Force Station, July 6
Steve Whitmire and Kermit at the National Puppetry Festival in Atlanta, Georgia, July 15
Miss Piggy on Take Two with Phineas and Ferb, August 20
Miss Piggy and Animal on The Tonight Show, August 31
Elmo on Late Night with Jimmy Fallon, September 26
Miss Piggy on So Random!, October 2
Kermit on Entertainment Tonight, October 4
Elmo and Kevin Clash on The View, October 24
Elmo and Kevin Clash on Nightline, October 24
Elmo and Kevin Clash on Erin Burnett OutFront, October 24
Kevin Clash on The Daily Show, October 24
The Muppets on WWE Raw, October 31
Elmo and Kevin Clash on The Gayle King Show, November 1
Kevin Clash on The Takeaway, November 3
Miss Piggy on The Tonight Show, November 4
The Muppets: Exclusive Access Sneak Peek during ABC Family's "Double Date Night", November 5
Jason Segel on The Tonight Show, November 8
Kermit on The Ellen DeGeneres Show, November 9
Kevin Clash on The Wendy Williams Show, November 9
Miss Piggy at the CMA Awards, November 9
Carlo Alban on The Takeaway, November 9
Kermit at the Latin Grammys, November 10
Miss Piggy and Kermit the Frog on Desperate Housewives, November 13
Kermit and Miss Piggy on Dancing with the Stars, November 14
Amy Adams on The Tonight Show, November 14
Miss Piggy on Jimmy Kimmel Live, November 14
Jason Segel on Late Show with David Letterman, November 14
Kermit and Gonzo, Bunsen and Beaker, and Statler and Waldorf on ESPN's Mike and Mike, November 15
Amy Adams on The Ellen DeGeneres Show, November 15
The Muppets on Dancing with the Stars, November 15
Kermit and Miss Piggy on Late Night with Jimmy Fallon, November 16
The Muppets on Good Morning America, November 17
Animal on Late Night with Jimmy Fallon, November 18
Jason Segel on Saturday Night Live, November 19
Jason Segel on Live with Regis and Kelly, November 21
Jason Segel on Late Night with Jimmy Fallon, November 21
Miss Piggy on Chelsea Lately, November 21
Jason Segel on The Late Late Show, November 22
Miss Piggy on Live! with Kelly, November 23
Kermit, Miss Piggy, the Swedish Chef, and a Whatnot (via Muppet Whatnot Workshop) on The Chew, November 23
Jason Segel on The Marilyn Denis Show, November 24
Kevin Clash on NPR's Tell Me More, November 28
Kermit on The National Christmas Tree Lighting ceremony, December 1
Miss Piggy on CMA Country Christmas, December 1
Oscar the Grouch on A Michael Bublé Christmas, December 6
Elmo on The Sunny Side Up Show, December 13
Kermit & Miss Piggy on WWE Tribute to the Troops, December 13
Elmo on The Nate Berkus Show, December 16
Cookie Monster on The Dr. Oz Show, December 19
Elmo hosts Elmo's Movie Merry-Thon, a programming block on Sprout, December 23 and 24
Statler and Waldorf, Kermit, and Gonzo on the Disney Parks Christmas Day Parade, December 25
Elmo at the Kennedy Center Honors, December 27
See also: The Muppets promotional appearances. Note that Kermit was scheduled to appear on The Tonight Show November 11, but did not appear.
Live Appearances
Elmo and Cookie Monster at Minneapolis-St. Paul International Airport, May 2
Elmo, Cookie Monster, and Grover at LaGuardia Airport, May 3
Elmo and Grover at Hartsfield-Jackson Atlanta International Airport, May 5
Oscar the Grouch and Caroll Spinney, Nellis Air Force Base, June
Various characters, Annual Sesame Workshop Benefit Gala, June 1
Roscoe Orman, accepting an award for Sesame Street at the Television Critics Association Awards, August 6
Walk-around Sweetums, Kermit, and Rowlf the Dog at the D23 Expo in Anaheim, California, August 19
Kermit and Miss Piggy at the D23 Expo in Anaheim, California, August 20
Miss Piggy at New York Fashion Week, September 8
Caroll Spinney, American Academy of Pediatrics National Conference & Exhibition, Boston, October 15[1]
The Muppets on WWE, October 31
Kermit and Jason Segel at STARS Benefit Gala, November 1
Abby Cadabby and Gordon at the launch of Military Families Near and Far (familiesnearandfar.org), November 5
Sweetums, Animal, Fozzie Bear, Walter, Gonzo, Rowlf, Kermit, and Miss Piggy, and Statler and Waldorf at the world premiere of The Muppets at the El Capitan Theatre in Hollywood, California, November 12
Murray Monster with Nolan Gould at the Los Angeles Regional Food Bank, November 15
Miss Piggy at The Trevor Project's Trevor Live fundraiser, December 4
International Appearances
Elmo on App Central, May 31
Elmo on App Central, June 1
Ernie, Bert, Carsten Morar-Haffke, Martin Paas and Charlie Kaiser on Morgenmagazin, October 14
Kermit on CP24 Breakfast, October 25
Jason Segel on Breakfast Television, October 25
Kermit the Frog on George Stroumboulopoulos Tonight, November 3
Ernie, Bert, Carsten Morar-Haffke and Martin Paas on Mikado am Morgen, December 4
Video games
Home Video
International Home Video
Albums
Books
Storybooks
Comics
Merchandise
Attractions and Events
Jim Henson's Fantastic World

Museum of Science and Industry (Chicago, IL), January 1 - January 23
Lakeview Museum of Art and Science (Peoria, IL), February 12 - May 1
The Museum of the Moving Image (Astoria, Queens, NY), July 16 - January 16, 2012

Schuif Gezellig Aan in Alkmaar, January 1 - February 28
ToonSeum exhibit "The Art of Caroll Spinney", November 6, 2010 to January 30, 2011
Elmo's Red Tie Ball in Providence, Rhode Island, March 5
Jim Henson named a Disney Legend at the D23 Expo in Anaheim, California, August 19
ToonSeum presents "Animating Haring!", featuring art by Bill Davis, created for Keith Haring-inspired animation on Sesame Street, October 22, 2011 to February 26, 2012
World premiere of The Muppets at the El Capitan Theatre in Hollywood, California, November 12
New Muppet clothing, original artwork, and skate decks are debuted at D23's Muppet-acular Mayhem at D Street event in Anaheim, California, November 17
The El Capitan Theatre hosts Disney's Most Sensational Muppet Party! at Disney's Soda Fountain and Studio Store in Hollywood, California, November 23 - January 5, 2012
The Muppet Christmas Carol is one of the films screened at D23's Disney and Dickens event in Burbank, California, December 5 & 6
Muppet Character Debuts
Music Videos
International music videos
"The Muppet Show Theme" with Elio
Parades
Sources
Community content is available under
CC-BY-SA
unless otherwise noted.