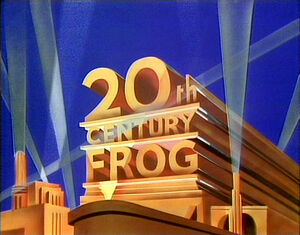 20th Century Fox is a movie studio, originally formed in 1935. The studio released Shirley Temple movies, the Planet of the Apes movies, and Star Wars. The studio's trademark logo fanfare was also used for television (including M*A*S*H). In the 1980s, Rupert Murdoch bought the studio and also started the Fox Broadcasting Company. In 2019, the studio was acquired by the Walt Disney Company and rebranded as 20th Century Studios in 2020.
Over the years, 20th Century Fox has periodically been involved with Jim Henson-related movie projects, including the proposed film The Varied Adventures of Mischievous Miles. In 2012, an untitled Sesame Street movie was announced as in the works at 20th Century Fox, but by 2015, it had moved to Warner Bros..
Home Video
In the 1980s, the 20th Century Fox Video label released The Muppet Movie and The Great Muppet Caper (both reissued under the successor label CBS/Fox Video). ITC Entertainment had a distribution deal with Magnetic Video Corporation, inherited by Fox when they purchased the label in 1980 (and subsequently rebranded it in 1981).
Playhouse Video, a subsidiary of CBS/Fox, would also distribute a collection of Muppet Show compilation tapes under the sub-brand Jim Henson's Muppet Video in the mid-1980s.
References