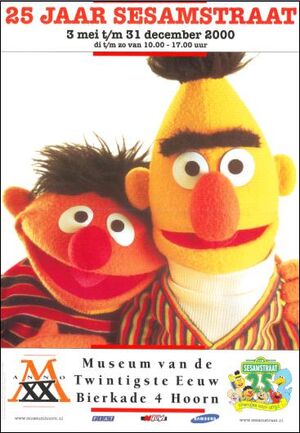 25 jaar Sesamstraat was an exhibition at Museum van de Twintigste Eeuw, a museum in the Netherlands, located in Hoorn. The Museum of the 20th Century was opened in 1994 in two former cheese warehouses by the harbor of Hoorn. The Museum has dedicated its exhibitions to all kinds of developments of this century. A scale model of Hoorn in 1650 can also be found in the warehouses. An audio visual show and the 6 x 5 meter model tell the story of Hoorn, a town which played an important role in the history of the famous Dutch East India Company, the VOC.
The Sesamstraat exhibition ran from May 3 through December 31, 2000. It was shown in two exhibit rooms of the museum.
Tuesday, May 2, 2000 was the official opening of this exhibit, done by Sien Diels and Elvan Akyildiz.
The exhibition depicted various Sesamstraat related things: The Muppets, the merchandise, the vision behind the scenes of this program, Jim Henson's life and work, and many of his other creations like The Muppets and The Fraggles.
Also the exhibition was made especially for children. They could not only watch, but also play, feel and discover all sorts of things. The Dutch Sesamstraat kiosk was recreated in Hoorn with the original props from the studio. Pino, Cookie Monster, Oscar the Grouch and other characters where displayed in lifesize. In displays were shown the history of the show through many clear pictures and objects and props.
The Hall of Fame showed all the characters and most famous Dutch actors of the show. And on television screens the historical segments and several other international Sesame Street versions. Besides all this, there was also an opportunity to browse on some Internet sites about Sesamstraat.
External links