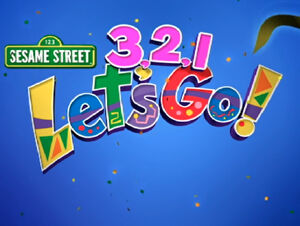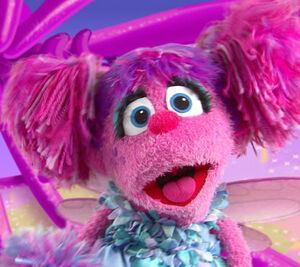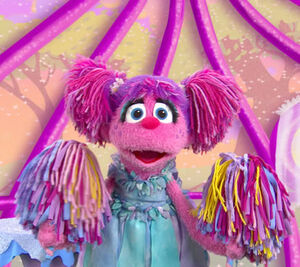 3, 2, 1 Let's Go is a 52-episode half-hour program created in 2009 and packaged by Sesame Workshop for sale in international markets. Hosted by Abby Cadabby and her magic mirror Looky Lou, each episode contains segments from Play with Me Sesame, Global Grover and Bert and Ernie's Great Adventures.
"Abby Cadabby is spreading her fairy wings and flying over to 3-2-1 Let's Go, an original half-hour preschool block. 3-2-1 Let's Go will feature segments from beloved children's shows Play With Me Sesame and Global Grover and introduce children to Bert and Ernie's Great Adventures, Sesame Workshop's first all claymation series consisting of adventures experienced by Bert and Ernie. Each episode of 3-2-1 Let's Go will be hosted by Abby Cadabby who will invite the audience to play, cheer on her friends between segments and say goodbye when the block is over. (52 x 30 minutes)

Like its successful predecessors Elmo's World, Global Grover, and Play With Me Sesame, this new and robust slate of programming continues the 40-year tradition of taking the best of Sesame—the humor, the colorful characters, and the zaniness—and creating different formats that meet the needs of the next generation of viewers," said Miranda Barry, Sesame Workshop's Executive Vice President, Creative. "We, like people the world over, are incredibly interested in encouraging children to believe in themselves, eat healthier, care for our environment, and discover the fun of learning. These four new shows are a positive reflection of that.[1]"
Broadcast history
A Spanish dub of the series content, entitled 3, 2, 1 ¡Vamos!, has aired on Discovery Kids Latin America. The series premiered in Canada on Wednesday, September 8, 2010 on Treehouse TV. The segments were included as part of season 5 of Bangledesh's Sisimpur.
Footage from the series was used as framing scenes for the 2010 DVD, P Is for Princess. The first 26 episodes of the series have been made available for streaming on Amazon Prime.
Credits
For Abby Cadabby Segments
Production Crew
Sources
Community content is available under
CC-BY-SA
unless otherwise noted.