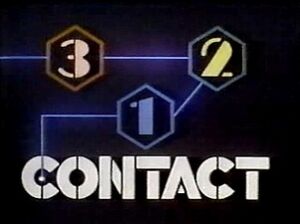 3-2-1 Contact was a science education series produced by Children's Television Workshop that ran on PBS from 1980 until 1988. The series was geared toward an older audience than Sesame Street and The Electric Company, and it focused on such topics as biological and zoological life, the environment, and physical forces.
Mentions
In the sixth episode of the first season, Lisa and Marc practice roller disco while listening to the opening vamp of "Disco Frog" from the Sesame Disco! album.
In a season-two episode focusing on flight and flying animals, which aired on October 17, 1983, a song was included that was titled "Big Birds Don't Fly," sung to the tune of "Big Girls Don't Cry." In addition to footage of ostriches, emus and penguins, Big Bird was showcased, using clips from "Wheels on My Feet."
Connections
External links
Community content is available under
CC-BY-SA
unless otherwise noted.