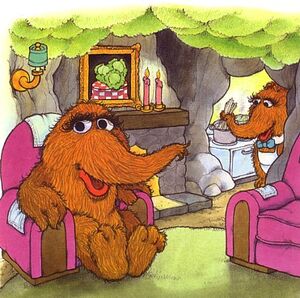 456 Snuffle Circle is the address where Mr. Snuffleupagus lives with his mother, father, and sister Alice. The address is given in the 1989 book Bert and the Magic Lamp.
The interior is a cross between a dank cave and a cozy suburban home. The walls are bare stone, but the living room has comfortable chairs and a fireplace. The ceiling of the cave is covered in green moss, which the Snuffleupaguses like to pick off as a snack. Their kitchen is outfitted with a stove. A stream runs through one part of the cave, where the family bathes.
The cave is connected by tunnels to other caves in the neighborhood, including the home of Aunt Agnes Snuffleupagus. Another tunnel leads to the home of the Count's bats.
Big Bird visits Snuffy's cave in The Day Snuffy Had the Sniffles, to cheer him up while he's sick.
In Episode 2525, the distance from Big Bird's nest on Sesame Street to the cave (shown somewhere in Central Park) is measured in steps. The results end up being 2,000 Big Bird-sized steps, 5,000 Snuffleupagus steps, and 6,000 normal person steps (as counted by Bob).
Early on in the show (such as in Episode 1585), the dwelling was referred to as Snuffle Cavern. The cave is also notably where famous archeologist Minneapolis Johnson, Bob's brother, discovers the ancient Golden Cabbage of Snufertiti in Episode 2687.
An illustration in The Sesame Street Dictionary depicts Big Bird with an envelope addressed to Snuffy at Cave South, Central Park, NY.