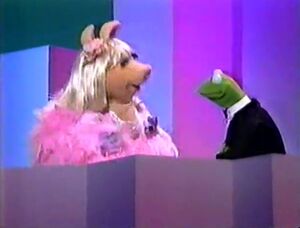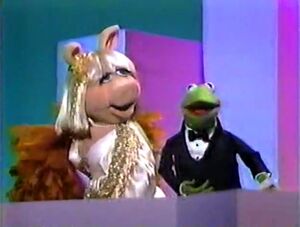 50 Years of Television: A Golden Celebration is an NBC special that aired on November 26, 1989 that takes a retrospective look at the most memorable moments on television history featuring an extensive use of clips from various well-known TV programs.
The special was hosted by Walter Cronkite, Carl Reiner, John Larroquette, Jane Seymour and Kermit the Frog and Miss Piggy. It also featured appearances by Lily Tomlin, Barbara Walters and George Burns.
Kermit and Piggy first appear to introduce a clip package of dancing. Kermit starts off the intro, while Piggy shows off her dance skills in the background as a visual aid. While demonstrating her "coup de grass [sic]," her "triple plie, double entendre, and a one-and-a-half misty gator," she crashes off-screen, only to recover quickly and help introduce the clips.
After the montage, Piggy appears solo, due to her status as a famous TV comedian, to introduce a tribute to "one even great than moi, if that's possible," Carol Burnett.
Later in the program, Piggy and various off-screen stagehands set up for her supposed musical number. Kermit tries to tell her he has to introduce some of TV's greatest singers and she wasn't even in the balloting. Insulted, Piggy refuses to sing on the show, or any other show for the rest of her life. "There you have it folks, another great moment for television," Kermit remarks before Piggy whacks him.
During a speech by Cronkite about how TV affects society, a clip of Big Bird singing "ABC-DEF-GHI" is shown.