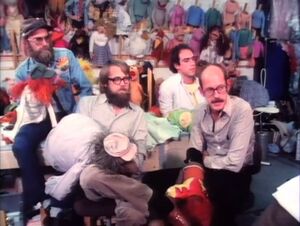 60 Minutes is a news program that has run on CBS since September 24, 1968.
Appearances
The report was rebroadcast in 1990 shortly after Jim Henson's death with a new introduction by Safer, in which he cited that The Muppet Show was "the most popular broadcast in the history of television."
Muppet Minute
In 1983, plans began for a recurring segment called the "Muppet Minute," which would be 3D animated political cartoons featuring the Muppets.
Jim Henson and his team began to develop an alternate scenario for the segment, bringing back the talking Mount Rushmore puppets from The Muppet Show: Sex and Violence. Following a short introduction from Kermit the Frog, the heads of the mountain would do a brief comedy routine pertaining to topics such as Miss America, global warming, acid rain, and New Year's Eve.
With some segments scripted by Joseph A. Bailey, the team took to the studios on November 7, 1983 to shoot the pieces. The results were not up to Jim's standards, so Sesame Street writer Tony Geiss was commissioned to write more sketches. Jim returned to the studio with performers Peter Baird, Neil Gallagher, Brian Muehl, and Fred Newman to shoot three of these routines. However, the producers of 60 Minutes could not find an appropriate slot for the segments and they ultimately were left unaired.[1][2]
References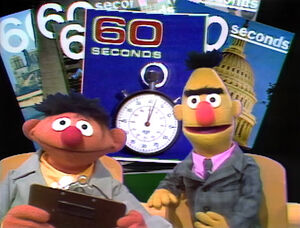 In a Sesame Street sketch, after watching "Six Feet Under," the Count flips through channels to find a new program to watch. He settles on 60 Minutes, as the show's famous ticking clock is heard playing.
TV network CDE, in The Muppets, airs a program called 30 Minutes. Starting Sunday nights at 7, it continues until 8.
Sources
See also