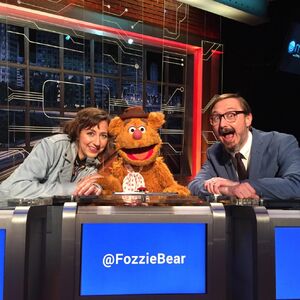 Fozzie Bear answers viewer's #DearFozzie questions with Chris Hardwick live on Facebook.
@midnight is a late night Internet-based comedy game show hosted by Chris Hardwick from 2013 to 2017.
Fozzie Bear appeared as a contestant on the May 24, 2016 episode of the show alongside Kristen Schaal and John Hodgman. Topics included: the celebration of Beyoncé Day, listing #BoringBlockbusters, reacting to bad infomercial GIFs, being misidentified by Starbucks baristas, dreaming up new projects for the recently-unemployed Muppets, and creating a new Internet meme featuring Fozzie Bear.
Fozzie also participated in a live Facebook Q&A session with Hardwick prior to his appearance. (video)
The puppet cast of The Jim Henson Company's No, You Shut Up! appeared as contestants in February 2015, where the Hot Dog said "Phil Spector's Sesame Street" while coming up with an appropriate title for a creepy children's show, and Paul F. Tompkins said "Roe V. Wocka Wocka" while coming up with names of puppet legislation.
See also
Community content is available under
CC-BY-SA
unless otherwise noted.