Music by
Sidney Lippman
Lyrics by
Buddy Kaye and Fred Wise
Date
1948
Publisher
Aria Music Company, Sony/ATV Tunes, LLC
First
Episode 0023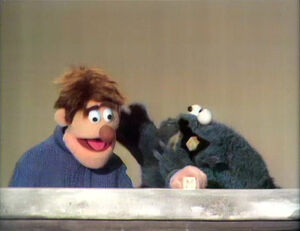 "A, You're Adorable" is a novelty song popularized in 1949 by Perry Como and the Fontane Sisters. Starting with the letter A, the singer uses the letters of the alphabet to describe his beloved, calling her adorable, beautiful, a cutie, and so forth.
"A, You're Adorable" was performed in a sketch on the first season of Sesame Street by Jack, who, before breaking out into song, explains that A is his favorite letter, not because it starts words like apple and ant, but because it's the first letter of the word adorable, which is how he describes his girlfriend Adrienne (Caroll Spinney). A series of alphabet blocks scroll along a conveyor belt atop the brick wall in front of them as Jack sings each letter of the alphabet throughout the course of the song, while picking up each block and throwing it behind the wall.
Unfortunately, unbeknownst to Jack, the blocks belong to Cookie Monster, who appears out of no where and scares Adrienne away. Cookie then demands Jack to give him back his blocks, who then retrieves them in order from behind the wall and recites the alphabet once more as he hands them over to Cookie Monster, who, naturally, eats them one by one.
Elmo and Marie Osmond performed the song on Donny & Marie, in a promotional appearance for season 31; it also appeared in an outtake reel shown later.
See also