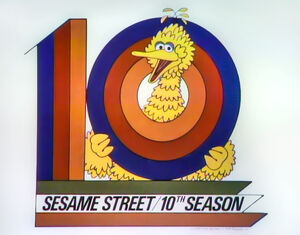 A-B-Chorus Line was the working title of a proposed Sesame Street special meant to commemorate the show's 10th anniversary. The sixty-to-ninety minute special was to lampoon the plot of the Broadway musical A Chorus Line.
In the special, the Sesame Street cast learns from a newspaper that the show (and street by extension) is now ten years old. A flashback to 1968 takes the viewer to a theater, where auditions are being held for a new educational series (monitored by three producers listed only by their first initials - C, T, and W). Amid a sea of actors (both human and Muppet) are the current street regulars, preparing their auditions.
Among the proposed acts include Big Bird riding in on a unicycle and singing "A Bird in a Gilded Cage," a chorus of monsters singing "Broadway Baby" and David, fretting over his audition song, initiating a performance of "What's the Name of That Song?" The role of Mr. Hooper would be contested by Cookie Monster and a Shakespearian actor clearly unfit for the role. A running gag involved Gladys the Cow auditioning for every role.
The special would also explain the origins of certain roles and characters, such as the first meeting of Ernie and Bert and the hiring of Grover (who was merely a coffee delivery monster to the theater). Other character appearances included Linda (performing a mime act), Biff and Sully (stagehands causing accidents during the show), Oscar the Grouch (who almost gets thrown out by the garbagemen), Kermit the Frog and The Count. Inserts from the show would be used during "breaks" in auditions, as well as flash-forwards as the cast imagines their roles on the show.
The special ends with the final callbacks, where all the regular characters are present. Together, they sing the "Sesame Street Theme" as the show dissolves back to the present, where the cast continues singing the song with a flood of kids who've just arrived.
Though the special did not come into fruition, a different special celebrating the show's 10th anniversary, A Walking Tour of Sesame Street, aired on PBS in 1979.
Sources
Community content is available under
CC-BY-SA
unless otherwise noted.