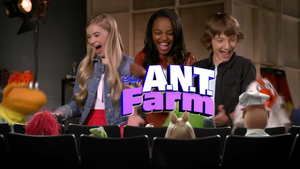 A.N.T. Farm is a Disney Channel sitcom about the lives of kids, who are part of a high school program for young adults with Advanced Natural Talents, which ran from May 6, 2011 to March 21, 2014. The series features more surrealist humor than it's contemporaries, which includes breaking the fourth wall, and a guest appearance from C-3PO and R2-D2.
The cast appeared in promotion for The Muppets, with The Muppets: Movie Star Secrets, in which Miss Piggy and Kermit the Frog taught them how to act like movie stars.
Muppet Mentions
In the episode "bad romANTs," self-centered Lexi Reed makes it a mission to make it into the school newspaper. One of her attempts to to have her friend Paisley pretend to choke. She states she has food caught in her "Snuffleupagus."
In "amusemANT park," Paisley, Lexi and Olive compete in a doll beauty pageant, hosted by an aging puppet character Bernie, formerly a character on the '70s children's show Poppyseed Place (a Sesame Street spoof). When Olive's talent portion results in a chemical explosion, he mentions he hasn't seen such a bomb since Cookie Monster's performance in The Color Purple.
Connections
Community content is available under
CC-BY-SA
unless otherwise noted.