ABBA is a Swedish pop music group formed in Stockholm in 1972. Comprised of Anni-Frid Lyngstad (Frida), Björn Ulvaeus, Benny Andersson and Agnetha Fältskog (Anna), the group topped the charts worldwide from 1972 to 1982.
According to an interview with Jim Henson, in the 1981 issue 22 of Röster I Radio TV, he tried to get ABBA on The Muppet Show, but they could not get the schedules to fit.
Covers
References
The Last Video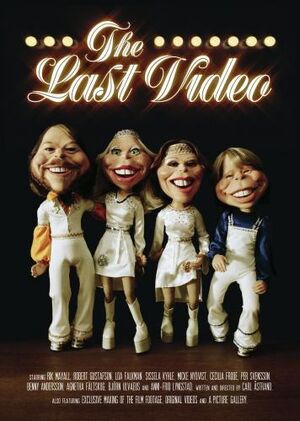 In 2004, the Jim Henson Company provided the puppets for ABBA's music video The Last Video, in which four small puppets (caricatures of the group members) try to get a recording contract in Stockholm in 1974 by playing a medley of some of the band's biggest hits.
The video was originally shot as Our Last Video Ever for the 2004 semi-final of the Eurovision Song Contest, thirty years after ABBA had won the contest. It was later released on DVD at the request of the former ABBA members, retitled The Last Video. A group of celebrities made small cameo appearances in the video, including each of the four group members and Cher.
Besides mentioning the Henson Company's achievements, the band's official website shares the following anecdote by writer/video director Calle Åstrand about the members' reaction to the puppets:
"When Agnetha saw what her own doll looked like, she laughed and said, "I look like Miss Piggy!" She thought that was a lot of fun. And Frida was delighted when we showed her what we had filmed so far. The male half of the group was just as keen about this light-hearted approach.[1]"
The DVD booklet lists the following credit: "ABBA dolls by Jim Henson Creature Shop Ltd." The same can be found in the on-screen credits, where the distinction between the terms "puppets" and "dolls" is lost in translation. (There is only one word for both in the Swedish language.)
The DVD also features a behind the scenes making-of featurette, showcasing the puppeteers and the Henson shoot crew at work.
Credits
Created by Jim Henson Creature Shop Ltd.
Creative Director: Jamie Courtier
Designer: Sharon Smith
Producers: Tracy Lenon, Tanya Knight
Puppeteers UK: Phil Eason, Richard Coombs, John Wheatley, Mark Jefferis
Puppeteers SE: Petter Lennstrand, Jenny Bjärkstedt
Henson Shoot Crew: Tim Rose, Denise Baseley
External Links
Sources
Community content is available under
CC-BY-SA
unless otherwise noted.