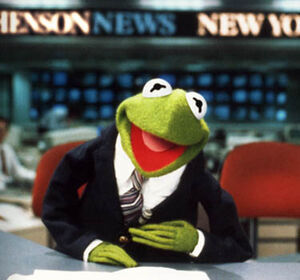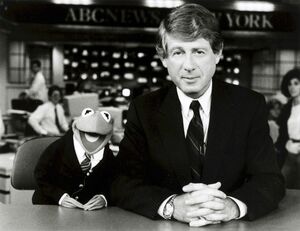 On November 6, 1987, the Muppets joined Ted Koppel as guest hosts for ABC News Special: Wall Street and the Economy, following the event known as Black Monday.
The special featured Kermit, Fozzie, Sam the Eagle, Rowlf, Lyle, Grump and a Muppet bull reporting from the Nightline studio. The special aired over a three hour period to address concerns from the dramatic Stock Market drop in previous weeks. The Muppets appeared to provide simple explanations of the many technical terms used when discussing the Market. Highlights included Kermit and Fozzie discussing a bull market and calculating the national debt.
As Koppel indicates later in the broadcast, some of the Muppet material was pre-filmed. Footage with Miss Piggy was used in the broadcast and included in The Muppets Celebrate Jim Henson three years later, but does not appear in the on-demand version of the special.
The sequence where Fozzie explains the bear market was included in The World of Jim Henson.
See also
External links