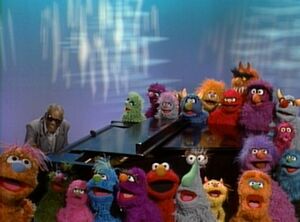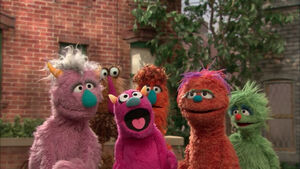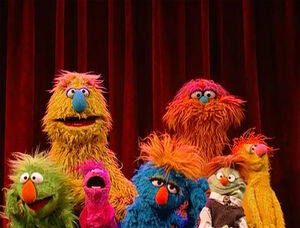 The AM monsters (Anything Muppet monsters) are a group of faceless Sesame Street monster puppets whose identities can be changed by altering eyes, noses, tongues, horns or other features as required. The puppets are similar to Anything Muppets in their simple design and interchangeable identities. However, they are also like the Whatnots used on The Muppet Show in that there is usually only one of each kind of monster puppet, whereas there are more than one copy of most Anything Muppets.
During the early years of Sesame Street, monsters needed for brief appearances were usually created by draping fur over parts of the body and head of an Anything Muppet. One of the most prominent monsters created in this manner is Frazzle. Later they were replaced by the AM monsters, allowing for a larger variety of designs.
Some monsters also have features that are rarely removed, such as Kermit the Forg, or had a single identity for an extended period of time (such as Maurice Monster). While most remain background characters, several monsters have developed unique personalities and become main characters, including Humphrey, Natasha, and, most famously, Elmo.
The iPhone app "Elmo's Monster Maker" makes use of the durability of the AM monsters. The puppets make a rare featureless appearance before being given animated body parts and accessories by the player.
Designs