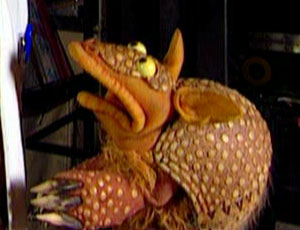 Joe the Armadillo takes viewers on an exclusive behind the scenes look at the making of Kermit's Swamp Years. The 16-minute documentary was created for the DVD release of the film in 2002.
Interviewees
Joe the Armadillo, David Grumple, Jim-Joe Lewis, Katie-Joe Walters, Croaker, Goggles, Blotch, Gordy-Joe Jorian, Patrick "The Best Boy" Meng, Bill-Joe Hill, John-Joe Hostetter, Sandi-Joe Struthers, Puppety Sockman the Puppet, Bill Barretta, and Joe the Pig.
Community content is available under
CC-BY-SA
unless otherwise noted.