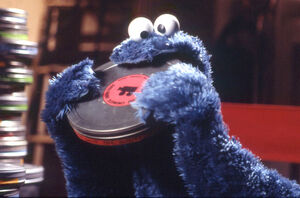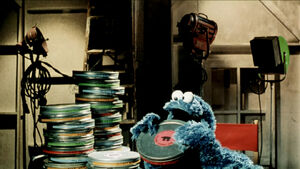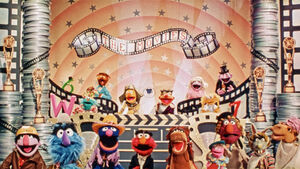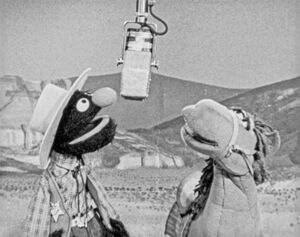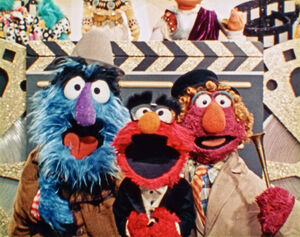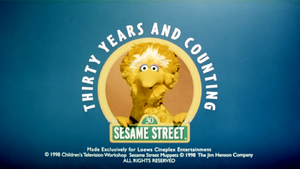 A Brief History of Motion Pictures was a 1998 short shown before features in Sony/Loews Movie Theaters (later merged with AMC Theatres) featuring the Sesame Street Muppets, providing a synopsis of the developments in filmmaking from silent movies to present day.
This short premiered in theaters on November 20, 1998, and accompanied all prints on the theatrical release of The Adventures of Elmo in Grouchland and Muppets from Space on a smaller number of prints.
Description
Cookie Monster gives a lecture on the history of motion pictures, with examples on film featuring Marshal Grover and Fred the Wonder Horse. They demonstrate how, after a "not too exciting" period with no picture and no sound, moving pictures were invented; followed by moving pictures with sound ("This town ain't big enough for the two of us!"), which resulted in the invention of the musical. An all-star Sesame Street cast, with Prairie Dawn as the director, joins Grover and Fred in a big musical number called "This Town Ain't Big Enough for the Two of Us," as the movie turns to color and widescreen. Finally, the special effects are introduced: a rolling boulder, a shark, and a ravaging Muppet twister chase all of the singers out of the studio.
The clip ends with Cookie Monster eating the sled (Rosebud) from Citizen Kane, and Big Bird (appearing out of an MGM-eqsue logo advertising the show's 30th anniversary, singing a few notes of the theme in lieu of roaring) telling the viewers to "Enjoy the movie!" as Elmo, Herry and Telly (as The Marx Brothers) run by.
Cast
Cookie Monster, Grover (as Marshal Grover), Fred the Wonder Horse, Elmo (dressed as Groucho Marx), Herry Monster (dressed as Chico Marx), Telly (dressed as Harpo Marx), Zoe (dressed as Dorothy Gale), Bert (dressed as a pharaoh), Ernie (dressed as a Roman emperor), Baby Bear (in a light blue suit), Rosita (dressed as Carmen Miranda), Benny Rabbit (dressed as an Arab), Oscar the Grouch, Prairie Dawn, The Count (dressed as Fred Astaire), The Countess (dressed as Ginger Rogers), Letter W, Number 6, Number 7, Biff, a camel, a shark, a tornado, Big Bird
Crew
Notes
Additional puppeteers include Andy Stone, Matt Vogel, Victor Yerrid and Michael Paul[1].
Film reels in the framing scene with Cookie Monster include

All About Eve

, La Dolce Vita, Psycho, Ben-Hur, Star Wars, Citizen Kane, Plan 9 from Outer Space, Modern Times, High Noon, Casablanca and Gone with the Wind.
See also
External links
Sources