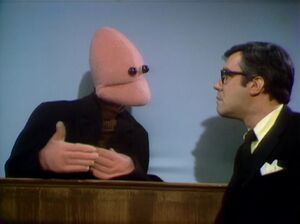 "A Change of Face" refers to a routine performed on The Ed Sullivan Show March 30, 1969. The sketch demonstrates how a particular puppet character, typically the Southern Colonel, can become completely new characters by simply changing the facial features and accessories.
In the sketch, a doctor, played by Rex Robbins, prescribes a change for the Muppet character, whose life has gotten into a rut. Robbins changes him from an old man to a teenage boy, then a hipster, then a poet, then a mobster, then a drunk, and then an alien. Robbins is freaked out by this last and tries to change him back to an old man, but gets his features upside down.
The premise of the sketch was based on a demonstration Jim Henson would often give on talk shows, as early as The Mike Douglas Show in 1966. He would continue to give similar demonstrations in The Muppets on Puppets in 1968, The Muppets Make Puppets in 1969 and The Dick Cavett Show in 1971.
Notes
Community content is available under
CC-BY-SA
unless otherwise noted.