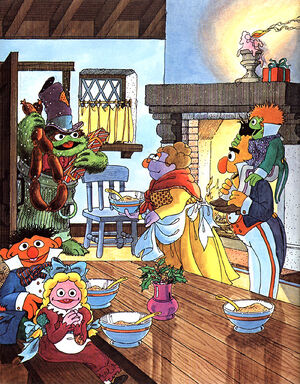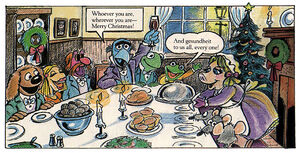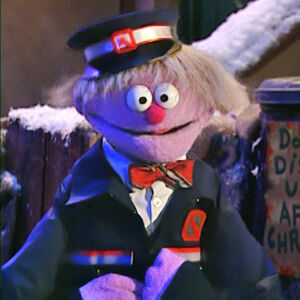 A Christmas Carol is a sentimental short novel, written by Charles Dickens in 1843. The book attracted instant popularity, and has endured across the decades. The tale of the redemption of miser Ebenezer Scrooge and his ghostly encounters has been reworked, remade, parodied, and referenced in countless subsequent stage, print, and film works, including several Muppet productions and products.
Adaptations
The 1979 special A Special Sesame Street Christmas incorporated many elements of the story, including a crippled kitten named Tiny Tim. To win round a typically grouchy Oscar, celebrity guests portray the ghostly visitors. Anne Murray appears as the Ghost of Christmas Past, who shows Oscar his childhood (with Leslie Uggams as his nurse); Imogene Coca plays the Ghost of Christmas Present, with alarm clocks strapped to her attire; and Dick Smothers is the Ghost of Christmas Future.
The 1987 book and tape set A Sesame Street Christmas includes the story "Oscar's Christmas Carol (A Dickens of a Story)". Oscar reads A Christmas Carol for the first time and is enthralled by Mr. Scrooge, who reminds him of his Uncle Smarmy. Oscar is subsequently disheartened when he finds out that Scrooge reforms.
References
In Episode 0046 of Sesame Street, Oscar gives Susan a bouquet of thorns (with roses attached) as a celebratory gesture for Ebenezer Scrooge's birthday. He exclaims, "Bah Humbug!" in Episode 0114 (only to have Gordon remind him that it isn't Christmas yet), and again for the sign off in Episode 0546.
In episode 108 of The Jim Henson Hour, Fozzie Bear meets a head-less ghoul in his motel room who, after re-attaching his head, heads to a power breakfast with the Ghost of Christmas Past.
In the Dinosaurs episode "Refrigerator Day," Baby Sinclair does an impersonation of Tiny Tim at the end of the Sinclairs' pageant, complete with costume and crutch. He says "And God bless us, everyone" before falling onto the floor.
Connections