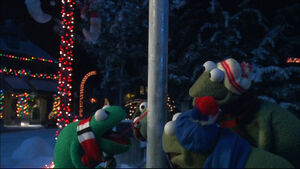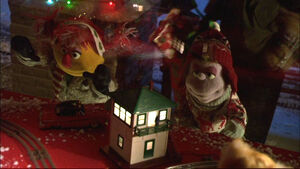 A Christmas Story is a 1983 MGM film based on the short stories of author Jean Shepherd. The film follows Ralphie (played by Peter Billingsley), a young boy growing up in 1940s Indiana, on his quest for the perfect Christmas gift, an official Red Ryder carbine-action 200-shot range model BB rifle with a compass in the stock.
Over the years, A Christmas Story has become widely popular and is now a perennial Christmas movie. For the past several years, twelve consecutive airings of the film have comprised twenty-four hour long Christmas Day marathons on TNT and TBS.
References
In the opening sequence of It's a Very Merry Muppet Christmas Movie, two Whatnot children are seen admiring a downtown Christmas window display. The characters, sets, and blocking of the scene mirror the opening sequence of A Christmas Story.
Later in the production, a group of young frogs "triple frog dare" another frog to touch his tongue to a cold metal pole, at which point his tongue sticks to it. The scene is a parody of a now-famous scene in A Christmas Story where Ralphie's friend Flick is "triple dog dared" to stick his tongue to a flagpole during recess and is left there alone when the bell rings. In the Muppet version, the "Flick" frog is similarly abandoned by his friends; even a depressed and hopeless Kermit walks by without helping. This frog is seen at the end of the movie, joining in the choir singing "Everyone Matters" while still attached to the street fixture.
Connections
Ian Petrella played Randy Parker
Jean Shepherd wrote the original story, co-wrote the screenplay, and played the narrator and a man in the Santa Claus line
External links