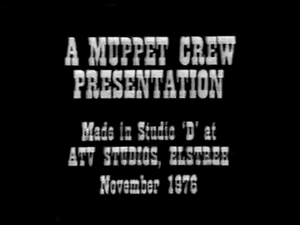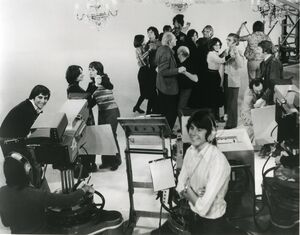 In November 1976, A Muppet Crew Presentation was made by the staff of Studio D at ATV Studios following the completion of the first season.
The video features the cast in their own version of The Muppet Show, featuring versions of Muppet News Flash, Veterinarian's Hospital, At the Dance and the Blackouts. The video ends with a performance of "It's Not Where You Start" with new lyrics.
The cast includes Peter Harris (sitting halfway down the stairs), Richard Holloway, Jim O'Donnell, camera operator Brian Grant, floor manager Steve Springford (as Kermit), Jerry Hoare, lighting director Phil Hawkes, Gerry Elms, John Rook, Martin Baker, production assistant Sue Boyers, floor manager Francis Essex, Dennis Bassinger, art directors David Chandler and Bryan Holgate, Peter Milic, Claude Walters and the ladies from the Canteen.
Speaking with Woman magazine in September 1977, Peter Harris recalls the presentation's conception and execution:
"

The crew love the show as much as we all do, and are really marvelous. In fact, everyone at ATV loves the Muppets.

After the first series ended, Jim and his team went back to America and, without their knowing it, we decided to do a mock Muppet show using humans instead of Muppets.

Well, the word got round the studio what we were doing and we got volunteers from all over the building to be in the show.

For example, you know how the show opens, with the lady pigs high-kicking it to It's Time To Put On Make-Up, It's Time To Light The Lights? Well, we got all the canteen ladies to do that bit and all the electricians and carpenters played the men in the line-up. It was absolutely hysterical.

We had special sets built, and the technicians and lighting men, in their spare time and for no extra money whatsoever, recorded a 10 minute version of The Muppet Show which we then presented to Jim when he returned from America.

And he loved it, not only because it was a genuinely funny spoof of his brain child, but also because he realised it was our way of letting him know what a great experience working on the Muppets has been.

From the call-boy to the director to the rest of the world, everyone loves the Muppets."
Community content is available under
CC-BY-SA
unless otherwise noted.