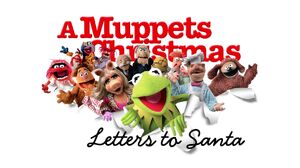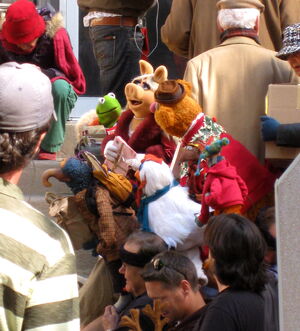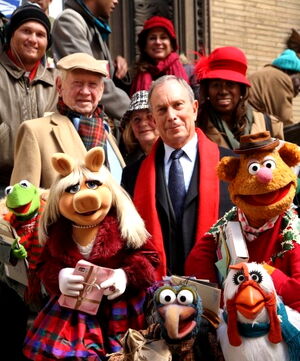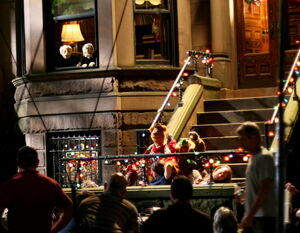 A Muppets Christmas: Letters to Santa is an hour-long Christmas special starring the Muppets, which first aired on December 17, 2008 on NBC. The plot involves the Muppets mistakenly intercepting three letters sent by children to Santa Claus and their attempts to fix the problems created by their mishap.
Celebrity appearances include Whoopi Goldberg, Tony Sirico, Steve Schirripa, Richard Griffiths, Jane Krakowski, Uma Thurman, Jesse L. Martin, Madison Pettis, Petra Nemcova, Nathan Lane, Paul Williams and New York City Mayor Michael Bloomberg.
A DVD of the special was released on September 29, 2009.[1] The disc's bonus features include deleted scenes and interviews with the cast.
A soundtrack album of the four original songs from the special was released for download on the iTunes Store and Amazon.com on November 23, 2009.
Plot
The program opens with the Muppets waiting in line at the post office to mail their Christmas cards. While there, the Muppets mistakenly intercept three letters sent by children to Santa Claus. Later, Claire, a young girl who lives in the same building as the Muppets, is disappointed when Gonzo reveals that the Muppets will not be around for Christmas as they are all going on vacation. However, the Muppets soon realize that the spirit of the holidays is more important than their vacation, and they attempt to fix the problems created by their mishap and get the averted letters to Santa Claus before Christmas. They rush to the airport via taxi, where they encounter Joy, a friendly ticket agent, and Officer Meany, a bitter airport security guard. They try to catch a flight to the North Pole before it's too late.
Some unspecified last-minute additions to the plot were taken from the unproduced special The Muppets Run for President.[2]
Songs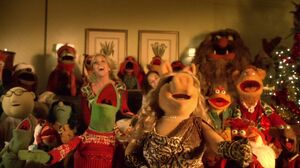 The special features four original songs written by frequent Muppet collaborator Paul Williams, who also appears in the special as Santa's chief elf.
Notes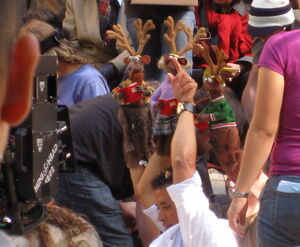 Cast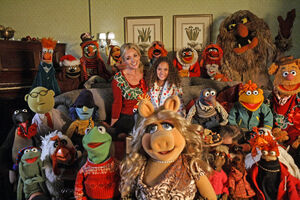 Muppet Performers:
Human Cast
Photo gallery
Muppet Cast
Muppet Characters
Kermit the Frog, Robin the Frog, Fozzie Bear, Gonzo, Miss Piggy, Rizzo the Rat, Camilla, Pepe the King Prawn, Sweetums, Sam the Eagle, the Swedish Chef, Lew Zealand, Dr. Bunsen Honeydew, Scooter, Rowlf the Dog, Statler and Waldorf, Beaker, Crazy Harry, Dr. Teeth, Animal, Floyd Pepper, Janice, Zoot, Bobo the Bear, Pigeons
Background Muppets
Crew
Promotion
See also
External links
Behind the Scenes
Reviews
Sources