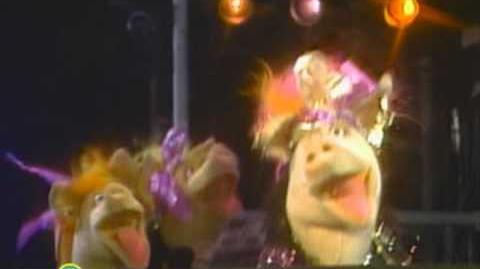 "A New Way to Walk" is a celebration of pedestrianism and the individual, as performed by The Oinker Sisters, with Ivy Austin singing the lead vocal.
The original 1980s version was spoofed in the style of an MTV music video, with VJ Old MacDonald introducing the video ("for fans of good music and pork bellies"), and filmed in front of a black background. The song features music video-style captions that refer to "Deutsche Hamaphone Records" at the beginning of the music video.
A new version was filmed in 1993, intercutting the Oinker Sisters with shots of children in the park, and prominently featured tap dancing by Savion. As with early all-star epics like "Put Down the Duckie" and "Monster in the Mirror", a raft of celebrities also appeared, including Bill Irwin and David Shiner (interacting with Savion), Maya Angelou, Garth Brooks, Ruth Buzzi (as Gladys Ormphby), Michael Chang, John Goodman, Kevin Kline, Cheech Marin, the Neville Brothers, Rosie O'Donnell, Bert (footage from "Doin' the Pigeon"), Marisa Tomei and Sally Jessy Raphael. (First: Episode 3233)
The song was later covered in 2002 by Destiny's Child with Elmo, Zoe and Grover. (First: Episode 3984)
Other versions
Notes
Releases
Audio
Video
Original:
Celebrity version:
Miles, Gabi and Destiny Child's version:
Destiny Child's version:
Publications
Specials
Original:
Celebrity version:
Community content is available under
CC-BY-SA
unless otherwise noted.