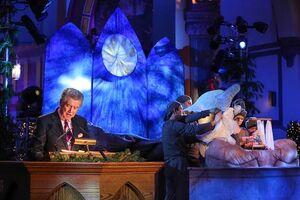 A New York Christmas to Remember is a CBS Christmas special featuring the puppetry of the late Jane Henson which aired on December 24, 2013.
The one-hour special features a performance of "The Nativity Story" a production created by Jane (and produced by Heather and Cheryl Henson). The Nativity puppets were featured alongside narration of Bible passages read by Regis Philbin. The service was pre-recorded on December 5, 2013 at the Church of St. Paul the Apostle in New York City.[1]
The special was dedicated to Jane Henson's memory and featured a segment profiling her artistic achievements and involvement with the production.
Credits
Sources
External links