Songs from
Released
1995
Format
CD
Label
Sony Wonder
Cat no.
LK 67340
LK 67664
A Sesame Street Christmas is a Sesame Street holiday-related album.
Released in 1995, the material on the album is very similar to the Merry Christmas from Sesame Street LP from 1975. However, it has been modernized by removing some of the characters who were no longer on the show, and dubbing in current characters. For example, the 1975 version of "The Twelve Days of Christmas" included vocal parts by Hard Head Henry Harris and Smart Tina, who are replaced here by Elmo and Telly. Zoe, Hoots and Wolfgang were also added. Moreover, one track is added, "True Blue Miracle," that is not from Merry Christmas from Sesame Street.
Track listing
Sesame Street Christmas Overture - The Sesame Street Festival Orchestra
We Wish You a Merry Christmas - Elmo, Hoots, Zoe, Big Bird, Prairie Dawn, Herry, Gordon, Bob, Grover, Susan, Luis, Maria, the Count, Bert, Ernie, and Cookie Monster
Medley: Deck the Halls / Jingle Bells / White Christmas / Winter Wonderland - Herry, Bert, Ernie, Prairie Dawn, the Count, Elmo, Zoe, Bob, Susan, Hoots, and Big Bird
I Hate Christmas - Oscar
Have Yourself a Merry Little Christmas - Bert and Ernie
The Twelve Days of Christmas - Cookie Monster, Elmo, Prairie Dawn, Grover, Bert, Ernie, Oscar, the Count, Big Bird, Telly, Herry, and Snuffle-upagus
True Blue Miracle - Hoots, Bob, and Elmo
Medley: It's Beginning to Look a Lot Like Christmas / Silver Bells / The Christmas Song / Santa Claus is Coming to Town - Big Bird, Susan, Gordon, Bob, and Grover
All I Want for Christmas (Is My Two Front Teeth) - The Count
A Christmas Pageant - Prairie Dawn, Ernie, Bert, Herry Monster, Cookie Monster, and Grover
Keep Christmas With You (All Through the Year) - Susan, Gordon, Big Bird, Luis, Hoots, Bob, Prairie Dawn and Ernie
We Wish You A Merry Christmas (Reprise) - Elmo, Wolfgang, Oscar, and everyone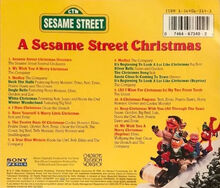 Production credits
Cast
Other releases
International releases
See also
Community content is available under
CC-BY-SA
unless otherwise noted.