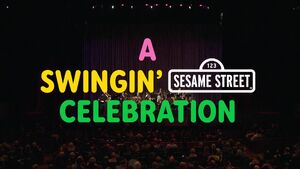 A Swingin' Sesame Street Celebration: 50 Years & Counting is a Sesame Street concert held at the Rose Theater in Lincoln Center on October 25 and 26, 2019. The concert featured the Muppet cast joining the Jazz at Lincoln Center Orchestra and Wynton Marsalis performing new versions of classic Sesame Street songs in celebration of the show's 50th anniversary.
Characters who appeared include Elmo, Bert, Ernie, Big Bird, Grover (and Super Grover), Oscar the Grouch, Count von Count, Abby Cadabby, Rosita, Hoots the Owl, Herry Monster, and Mr. Johnson.
The concert was scripted by Andrew Moriarty[1] and featured jazz arrangements of the following songs:
The event was originally announced to take place February 7-9, 2019.[2]
Event description
"Sesame Street comes to Jazz at Lincoln Center for a swinging celebration of the show's 50th anniversary. See some of your favorite feathered and furry friends like Big Bird and Elmo sing classic Sesame Street songs alongside the world-renowned Jazz at Lincoln Center Orchestra with Wynton Marsalis.

It's hard to imagine Sesame Street without music. The iconic show has featured many unforgettable tunes performed by real jazz musicians like trumpeter Kenny Rampton, a longtime member of both the JLCO and the Sesame Street band.

Many of the jazz greats have visited Sesame Street over the past 50 years. It's where countless children were introduced to legends like Dizzy Gillespie, Herbie Hancock, and Mary Lou Williams. Even our own Wynton Marsalis visited Sesame Street a few times, where he played "Take the A Train" with the Duck Ellington Orchestra and joined Hoots the Owl on "No Matter What Your Language (Our Music Can Be The Same)." Likewise, the JLCO has reimagined Sesame Street favorites into big band bonanzas, and this celebration will feature brand-new arrangements of Sesame Street gems.

No one is too young or too old to enjoy this playful, intelligent, and joyful music-- so come on down to our home, the House of Swing, and help us celebrate 50 years of our wonderful neighbors from Sesame Street.[3]"
See also
Sources
↑ Matt Vogel, Script and name tag in dressing room. Rehearsal for "A Swingin' Sesame Street Celebration". @sesamestreet @jazzdotorg #jazz #muppets #puppets #sesame50 #rehearsal, Instagram, October 24, 2019.
↑ "Jazz at Lincoln Center Announces 2018-19 Season", WyntonMarsalis.org, February 28, 2018.
↑ Cite error: Invalid <ref> tag; no text was provided for refs named events