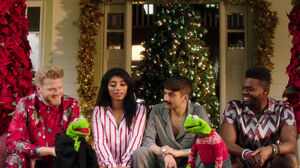 A Very Pentatonix Christmas is a Christmas special starring Pentatonix, a follow-up to 2016's A Pentatonix Christmas Special. The special aired on NBC on November 27, 2017. Kermit the Frog is billed as a special guest star, along with Jennifer Hudson and Jay Leno.
In one segment, Pentatonix discover that their Christmas presents have been stolen, and notice a mysterious pair of flipperprints. The thief turns out to be Constantine, who framed Kermit out of jealousy of his celebrity, while he is reduced to the fame of internet memes. Pentatonix forgives Constantine, and he and Kermit join in on a verse of "Hark! The Herald Angels Sing".
Mike Quinn assisted Matt Vogel for this appearance, alternating in puppeteering Kermit and Constantine in shots where Vogel performed the other character.[1][2]
Sources
Community content is available under
CC-BY-SA
unless otherwise noted.