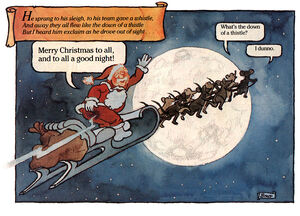 "A Visit from St. Nicholas" is a classic Christmas poem written by Clement C. Moore. Also known as "The Night Before Christmas," it tells the story of how one man caught Santa Claus at his work. It has been spoofed by the Muppets multiple times.
David asks Big Bird to hold his breath while he reads the poem in Sesame Street Episode 0673, but Big Bird catches on that it's too long for him to do that.
Late Night with Jimmy Fallon: Jason Segel and Walter participated in a "Mad Libs" version of the poem on the December 22, 2011 episode. Jimmy Fallon recited the poem with inserts from some of his friends. Segel, accompanied by a silent Walter, provides the word "sexy" in the line, "But what to my wandering eyes should appear but a '71 Gremlin and eight sexy ferrets."
Community content is available under
CC-BY-SA
unless otherwise noted.