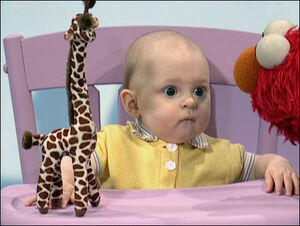 Elmo asks a baby a question in every episode of Elmo's World. Though each episode generally features only one or two babies, the series uses a different infant each time, showcasing different genders, ethnicities, and levels of awareness.
Sometimes the baby will simply stare blankly. Often, they seem captivated by Elmo and will attempt to grab his fur. The baby is usually completely baffled by Elmo's requests; in the "Balls" episode, for example, the baby simply sits and lets the ball fall on the floor.
Regardless, each encounter ends with Elmo saying "Thank you, baby!" and rewarding the tot with an affectionate kiss.
The format changes slightly in Season 35 episodes. Instead of talking to a baby on an Elmo's World set, the encounter takes place outside (or inside a house), with the baby sitting on a lawn or in a chair.
In What's the Name of That Song?, Elmo asks a baby what kind of song the whole world should sing, and the baby "whispers" an operetta into Elmo's ear.
Variations
See also
Community content is available under
CC-BY-SA
unless otherwise noted.