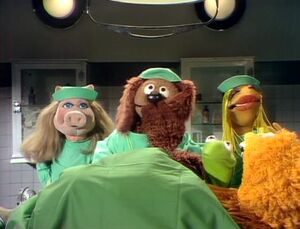 Having "a frog in my throat" is a common expression referring to the hoarseness of one's voice.
Given the fact that the most famous Muppet character, Kermit, is a frog, the expression has found its way into many productions as a part of a joke.
References
Edit
In Julie on Sesame Street, Kermit struggles to make it through the opening lines of "Bein' Green" due to laryngitis. He remarks, "Bet you thought I was gonna do the old joke about having a man in my throat, didn't you?"
In a 1975 appearance on The Tonight Show, Kermit does make the "person in my throat" joke in response to his own. "That's a frog joke, real big with all the frogs out there," he tells Johnny Carson.
At the Academy Awards in 1986, Jim Henson briefly speaks with Kermit's voice, then apologizes for having a frog in his throat.
Dolly Parton claims to have a frog in her throat before duetting with Kermit on Dolly. She tells him she's only croaking with him.
In a 1990 appearance on The Arsenio Hall Show, Kermit says "I would've said I had a frog in my throat, but I won't say that."
In a Muppetism short, Kermit scats until his throat gives out. He comments about having a frog in his throat. The short is punctuated with the message: "Laugh at your own jokes."
During a 1999 appearance on The Daily Show, attention is brought to Miss Piggy fumbling over her words. Jon Stewart calls her out on it, "You got a little frog in your throat? Is that what's going on there?" Piggy's offended at the joke, but Stewart says he's waiting his whole life to make it. After another rude comment later, Stewart says if she's stayed here through the frog joke, she'd stay through anything.