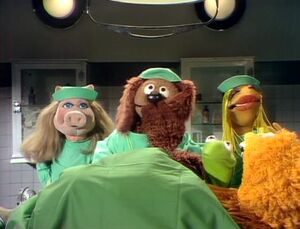 Having "a frog in my throat" is a common expression referring to the hoarseness of one's voice.
Given the fact that the most famous Muppet character, Kermit, is a frog, the expression has found its way into may productions as a part of a joke.
References
In Julie on Sesame Street, Kermit struggles to make it through the opening lines of "Bein' Green" due to laryngitis. He remarks, "Bet you thought I was gonna do the old joke about having a man in my throat, didn't you?"
In a 1975 appearance on The Tonight Show, Kermit does make the "person in my throat" joke in response to his own. "That's a frog joke, real big with all the frogs out there," he tells Johnny Carson.
In episode 115 of The Muppet Show, Behemoth visits the clinic for his soar throat. Dr. Bob inspects and discovers he has a frog in his throat - Kermit to be exact.
Community content is available under
CC-BY-SA
unless otherwise noted.