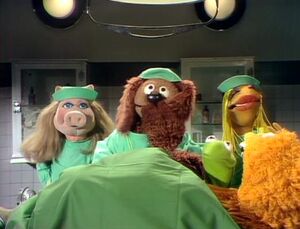 Having "a frog in my throat" is a common expression referring to the hoarseness of one's voice.
Given the fact that the most famous Muppet character, Kermit, is a frog, the expression has found its way into many productions as a part of a joke.
References
In Julie on Sesame Street, Kermit struggles to make it through the opening lines of "Bein' Green" due to laryngitis. He remarks, "Bet you thought I was gonna do the old joke about having a man in my throat, didn't you?"
In a 1975 appearance on The Tonight Show, Kermit does make the "person in my throat" joke in response to his own. "That's a frog joke, real big with all the frogs out there," he tells Johnny Carson.
Dolly Parton claims to have a frog in her throat before duetting with Kermit on Dolly. She tells him she's only croaking with him.
In a Muppetism short, Kermit scats until his throat gives out. He comments about having a frog in his throat. The short is punctuated with the message: "Laugh at your own jokes."
Community content is available under
CC-BY-SA
unless otherwise noted.