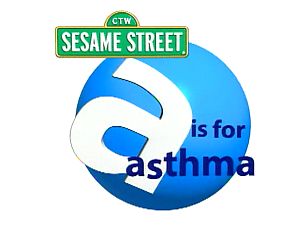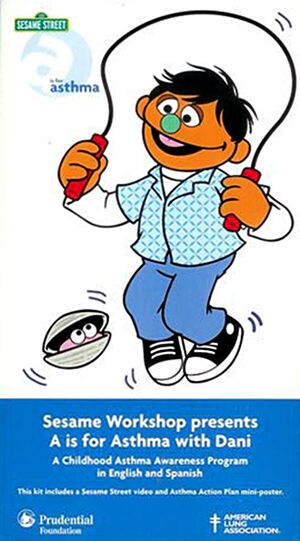 A Is for Asthma is a Sesame Street video created for parents and their kids to teach about asthma. Developed and distributed by the American Lung Association, the Prudential Foundation, and Children's Television Workshop, the video premiered on April 21, 1998 and was distributed to teachers and healthcare agencies. The 15-minute, bilingual video starred Elmo and Rosita, and featured Emilio Delgado as Luis.
The storyline involves Elmo and Rosita meeting a new friend, the asthmatic Dani. The video, in order to address asthma symptoms and how to deal with asthma episodes, as well as exploring the causes, included a rap from Dani, about how "many things... might/give me trouble breathing right," including animal hair and dust. Elmo and Rosita then become concerned that their fur is the source of his attacks, but Dani reassures them.
As one of the earliest resource videos conceived as a bilingual project, the cast and script were conceived accordingly, and nearly all of the performers re-voiced their own Spanish dialogue, with the primary exceptions of Kevin Clash (as Elmo and the doctor) and Pam Arciero (as Grundgetta).
The full video is currently available as a free video download from Sesame Workshop via the iTunes Store as part of the Learn Along with Sesame series, and can be viewed at the Sesame Workshop website.
Cast
Muppet performers
Human cast
Rosemarie Sepulveda as Andrea
Children: Lorraine Brancale, Channelle Nazaire, Sofia Rivera, Max Sacoto, Brendan Winkfield
Spanish Voices
Moises Belizario as Elmo
Francisco Rivela as Dani's Doctor
Josie de Guzman as Grungetta
Credits
External links
Community content is available under
CC-BY-SA
unless otherwise noted.