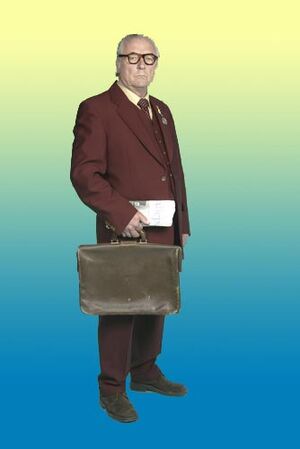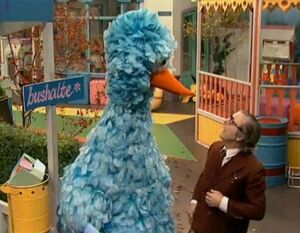 Aart Staartjes (1938-2020) was an Amsterdam-born actor, director, and presenter who played Meneer Aart on Sesamstraat, the Dutch co-production of Sesame Street.
Aart is a businessman who always walks around in a brown suit with a couple of medals on his chest, and enormous glasses on his nose. He thinks of himself as the most important neighbor on Sesamstraat, which is why he prefers to be called Meneer Aart (Mr. Aart). He is a bit of a know-it-all, and a bit of a grouch. He can even be a little mean at times - but usually, the other Sesamstraat inhabitants manage to outsmart him. Nevertheless, Aart is a well-loved person on the street. He interacts well with children, reading them stories at the end of the show.
Rik is Aart's nephew.
Concerning Aart's role on Sesamstraat, it's often said that "Aart is the snake in the paradise named Sesamstraat." The early episodes of Sesamstraat had no grumpy character, which made the street scenes a little dull and preachy at times. One of the writers suggested a man named Buurman Bol (Neighbor Bol) who hated everything, but he was considered too negative.
Aart made his debut on the show in 1984, when the script called for a gentleman who was looking for Frank. During his search, Aart met Pino, whom he treated very arrogantly, and a new character was born.
Staartjes was also involved behind the scenes of Sesamstraat, fulfilling important duties on the staff and the production team. One of the most important things he achieved was changing the number of writers, from a couple to a whole group, and he had a major influence on the appearance of Pino and Tommie. Because of his insistence, the show got rid of the first non-Muppet versions and got the puppets through Sesame Workshop. He also served as advisor and location director. Whenever the show got into problems, Aart was the one who pulled the wagon so Sesamstraat could last.
Staartjes created and performed in many Dutch children's shows, including the live broadcasts of Saint Nicholas' arrival which he hosted for many years. He was also a regular voice on the puppet series De Fabeltjeskrant as Rocus de Vrije Vogel, and worked on Disney dubs, supervising translation of Bambi and dubbing Bernard (voiced in English by Bob Newhart) in The Rescuers.
Staartjes' biography, Meneer Aart, was published in 2002. That same year, the actor stepped down from his other children's show duties, although he continued to appear on Sesamstraat through 2009. In his later years, Meneer Aart became a bit less grumpy, sometimes playing the part of a grandfather character.
On January 12, 2020, Staartjes passed away from injuries suffered during a traffic accident.
External links
Community content is available under
CC-BY-SA
unless otherwise noted.