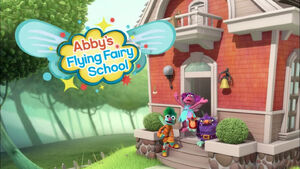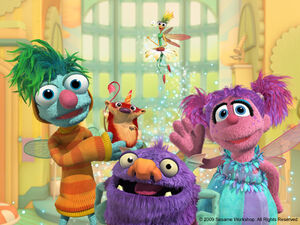 Abby's Flying Fairy School is a CGI-animated Sesame Street segment starring fairy-in-training Abby Cadabby. Abby goes to Fairy School, learning from Mrs. Sparklenose. Her class features all new characters: classmates Blögg and Gonnigan, fairies, trolls, and a part-gerbil part-unicorn called Niblet. The nine-minute segments focus on rhyme, reasoning, problem-solving, and cooperation. It debuted in season 40 and ran through season 45, though season 43 was the last to feature any new editions. The segment's theme song was written by Tony Geiss. It was later re-orchestrated for Season 42.
The principal characters in the series were designed by Peter De Sève, whose credits include such animated features as the Ice Age movies and Finding Nemo. The series is designed and animated by SpeakeasyFX. A couple of Spot sequences were animated by Magnetic Dreams Animation Studio.
Development for the segment began as early as 2007 under the title "Mrs. Sparklenose's Flying Fairy School." In these early pitches, the segment was planned as a hybrid of Muppet and CGI animation, where Abby, Gonnigan, and Blogg were to appear as standard Muppet characters, and Mrs. Sparklenose and Niblet as CG characters. While the final segments were nine minutes long, the proposals suggest the segment would run between 10 and 12 minutes. The original opening sequence would have featured the young fairies boarding the bus from a live-action neighborhood.[1] A later concept for the series was to have the Muppet version of Abby board a bus, which transforms her into a CG character.[2]
In an interview with Tough Pigs, Rosita said that she wants to visit the school; Abby considers bringing her for show-and-tell. (YouTube) Abby references attending flying fairy school in Episode 4733, after the segment had been retired.
A digital release, Abby's Flying Fairy School: Volume 1, was released on iTunes in 2015.
Segments
Season 40

Picture
Title / First Appearance
Description

Niblet's Wand

---

Episode 4187
Abby, Gonnigan and Blögg chase Niblet around the classroom and a crayon drawing to retrieve Blögg's stolen wand.

Pinocchio Process

---

Episode 4188
Blögg tries to turn his marionette into a real boy, but instead turns himself into a puppet. Mrs. Sparklenose describes the way he can become normal, using "The Pinocchio Process".

Genie in a Bottle

---

Episode 4189
Abby accidentally unleashes Gene the Genie from his bottle. His bottle, however, does not want to be empty and sucks up anyone near it.

Sugar Plum Fairy Day

---

Episode 4190
Gonnigan doesn't think he can dance in the dance recital. Mrs. Sparklenose poofs up him some "Sugar Plum Fairy Dance Shoes", which won't stay still for Gonnigan to put them on.

Cinderella Challenge

---

Episode 4191
The class must participate in the "Cinderella Challenge" to gain their Fairy Godmother wings.
This segment was adapted into an interactive game on Sesamestreet.org.

Say Gezundenshniffle

---

Episode 4197
After Blögg accidentally lets loose some Fairy Dust Bunnies, which set off Mrs. Sparklenose's allergic reactions. Her magic sneezes turn her students into various things.
This segment was adapted into an interactive game on Sesamestreet.org.

Sleeping Blöggy

---

Episode 4200
Abby brings the Enchanted Apple from Snow White in for Show-and-Tell, which Blögg eats and falls into a deep sleep.
This segment was adapted into an interactive game on Sesamestreet.org.

Fairies and the Beanstalk

---

Episode 4203
Gonnigan uses a spell to make his plant grow, which turns it into a beanstalk and sends Peck into the sky. They go to the top of it and find a giant.

Colonial Trolliamsberg

---

Episode 4205
The class takes a field trip to Colonial Trolliamsberg, a town populated by trolls. Blögg (being half-troll) tries to hide his fairy wings from the residents, thinking he will be made fun of.

Call it Macaronisaurus

---

Episode 4207
Blögg makes a large replica dinosaur from macaroni. Using "The Spice of Life", the dinosaur begins to wreak havoc on the classroom.
This segment was adapted into an interactive game on Sesamestreet.org.

Season 41

Picture
Title / First Appearance
Description

Tooth Fairy Training Class

---

Episode 4213
The students learn how to swap the tooth from under a pillow and make it into a coin, but must do it alone when Mrs. Sparklenose is put under a sleeping spell.

This segment was adapted into an interactive game on Sesamestreet.org.

The Cubby Imp

---

Episode 4214
Everyone's stuff is disappearing into the cubbies. It's up to Abby, Blögg and Gonnigan to find the Cubby Creature and retrieve their stuff.
This segment was adapted into an interactive game on Sesamestreet.org.

Sheepytime

---

Episode 4215
Abby has a hard time getting to sleep at nap time and conjures some sheep to count, with disastrous results.

Season 42

Picture
Title / First Appearance
Description

Pandora's Lunch Box

---

Episode 4257
Pandora's Lunchbox is accidentally opened, releasing some giant magical snacks that begin to wreak havoc.
This segment was adapted into an interactive game on Sesamestreet.org.

Super Fairy

---

Episode 4258
Abby conjures up her hero, Super Fairy, to meet her friends. But, she constantly knocks over their tower while trying to make them like her.

Fly Me to the Goon

---

Episode 4259
Abby brings a bunny to class for B Day, but the bunny turns out to be Little Bunny Foo-Foo, who won't stop bopping everyone's heads.

The Rapunzel Dilemma

---

Episode 4260
Its picture day in class, and Gonnigan is having a bad hair day. Abby tries using Rapunzel brand hair gel on him, but it makes his hair grow longer and longer, so they get Papino, a pixie barber, to cut his hair.
This segment was adapted into an interactive game on Sesamestreet.org.

Blögg's Schlubby

---

Episode 4261
Blögg's stinky sock comes to life and turns everything that it touches dirty and stinky. So the students conjure up a washing machine to clean it.

Fairy Face the Music

---

Episode 4265
The students meet Morty the Musical Muse, who helps them learn to play their instruments.

Blögg's Sense of Sludge

---

Episode 4275
The gang uses their senses to find Blogg's sludge balls in the ocean.

Opposite Day

---

Episode 4277
Blogg enchants himself with an opposite spell, which makes him into a neat, respectable person.

Season 43

Picture
Title / First Appearance
Description

Henking Day

---

Episode 4301
It's Henking Day, a Troll holiday, and the gang tries to find Grandpa Blogg's tree-home.

Pet Day

---

Episode 4304
The students bring in their pets for a Pet Day competition, making Niblet feel left out.

Treasure Hunt

---

Episode 4305
The class joins Captain Hook in a quest for the missing pieces of his treasure.

Puckish Pete's Petting Zoo Play-Along

---

Episode 4307
The class takes a field trip to a petting zoo where they must complete Puckish Pete's play-along challenge; they must feed a hydra, play with a kraken, and ride a unicorn.
This segment was made during Season 42's production period. A clip of it can be seen in the season 42 highlight reel.

Playground Troll

---

Episode 4311
The students meet a troll who threatens to take over the school playground unless they can solve her riddles.
Credits
Executive Producer: Carol-Lynn Parente
Coordinating Producer: April Chadderdon
Senior Producer: Tim Carter
Producers: Scott Stewart, Melissa Dino, Benjamin Lehman, Ronda Music Lask, Christine Walters
Animation Director: Jan Carlee
Head Writer: Joey Mazzarino
Writers: Lou Berger (2009), Annie Evans, Christine Ferraro, Judy Freudberg (2009), Tony Geiss (2009), J Milligan Luis Santeiro, Emily Perl Kingsley (2009), Ed Valentine, Belinda Ward
Cast: Tyler Bunch, Leslie Carrara-Rudolph, Stephanie D'Abruzzo (2011), Joey Mazzarino, Jeremy Redleaf, Jessica Stone
Animation Art Director: David Michael Friend
VFX Supervisor: Andre Zazzera
Composers: Tony Geiss,

Jody Gray

, Eric Perlmutter
Production Design: Rebecca Mount,

Tom Evans

Layout: Jesse Cowan, Dean Jones
Storyboard Artists: Tom Connor (2009), Abigail Nesbitt, Will Sweeney (2009), Antonio M. Toro (2009), Maurice Fontenot (2011)
Animators: Jess Cowan (2009), Jake Kalsbeek, Eileen Kearney, Roman Kobryn (2009), Haokun Liang (2009), Laura Skowronski Nattam, Brad Regier, Kevin Scott, Cesar Tafoya, Paul Wei (2009), Mike Wilson, Kevin Worth, Charlotte Zielinski
3D Artists: Sean Cantrell, Edyta Kuciapa, Mitch Lotierzo, Eric Thivierge, James Reid, Steve Palaia, Tinizsi Gadegbeku
Sound Effects Editor/Re-Recording Mixer: Dick Maitland, C.A.S.
Music Editor: Eric Perlmutter
Vice President of Education and Research: Rosemarie T. Truglio, Ph.D.
Characters designed by Peter De Sève, David Michael Friend
Special thanks to Magnetic Dreams (2009), Norman J, Nitrous, Sandblast Productions[3]
Merchandise
Hasbro produced an Abby's Flying Fairy School Playset in 2012. The Playset included Abby and Blögg figures. The magical preschool setting included a cabinet that could make the figures "disappear".
See also
Sources
External links