Abby in Wonderland is a 41-minute Sesame Street direct-to-DVD production adapting Lewis Carroll's Alice in Wonderland. The special was released in 2008.
The production was created specifically for DVD release, but it also aired on PBS on November 28, 2008 as part of PBS Kids' "Feast of Favorites" celebration after Thanksgiving. It was aired again on December 29, 2008 during the holiday season.
Cast of characters
Notes
The production received a limited theatrical release during September 2008 through Kidtoon Films.
Other releases
Promotional appearances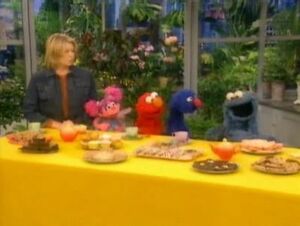 Any of Abby and Elmo's promotional appearances in book stores were based around the "T" party concept.[1]
October 1, 2008: Abby Cadabby and Elmo promote the DVD at Barnes & Noble's Tribeca store in Manhattan.
October 4, 2008: Abby Cadabby walked the pink carpet at the Sheppard Grande theatre in Toronto, Ontario, Canada. Following the pink carpet, there was a screening of the movie. (Tickets were available through contests with CHFI-FM and The National Post, and on the web).[2]
October 6, 2008: Abby Cadabby, Elmo, Grover and Cookie Monster visit Martha for a tea party to celebrate the release of "Abby in Wonderland" on DVD.
October 8, 2008: Abby Cadabby and Elmo appear to promote the DVD at Barnes & Noble's Glendale, California store.
October 8, 2008: Abby Cadabby and Elmo appear on Hollywood 411 promote the DVD.
October 13, 2008: Abby Cadabby and Elmo appear on The Bonnie Hunt Show to plug the DVD.
Performers
Starring the Muppets of Sesame Street
With Muppet Performers
Credits
Sources
↑ "Abby Celebrates DVD Release With Magical 'T' Parties", Sesame Workshop, 2008.
↑ Alliance Films and Sesame Workshop press release, "SESAME STREET'S NEWEST MUPPET, ABBY CADABBY, FLIES INTO CANADA AND MAKES HER DEBUT IN TORONTO AND IN "WONDERLAND"", 25 September 2008.
Community content is available under
CC-BY-SA
unless otherwise noted.