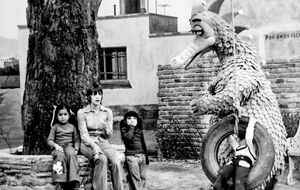 Abelardo is a big full-bodied reptilian creature who served as Big Bird's equivalent on the first run of Plaza Sésamo, the Mexican co-production of Sesame Street.
Abelardo made his debut in 1972 and, along with Paco, was active on the show for its' initial run. Two designs of Abelardo were used: the first season used a design with a pink snout, reddish orange skin, blue pupils, and a yellow crest with three points. The second season used a new design with orange and yellow skin, a yellow snout, and a crest with five points and a bell on each end (similar to a jester's hat).
Abelardo had a soft, gentle voice and a very particular way of talking, making pauses after every sentence. His favorite treats were pumpkin seeds or "semillas de calabaza" which is a common Mexican snack, also known as "Pepitas".
After the first run, both Abelardo and Paco were retired, and replaced by a full-bodied parrot named Montoya and a brown Grouch named Bodoque. Montoya was later renamed "Abelardo Montoya" as a nod to his predecessor, while Bodoque was replaced by Lola and Pancho. The original Abelardo made a reappearance at the grand opening of Parque Plaza Sésamo in 1995.[cite]
Species
Abelardo possesses features consistent with reptilian animals: skin composed of scales, a long tail, and extended snout. His actual species has been referred to with some inconsistency over the years with news articles from his debut in 1972 calling him both "an ingenuous giant alligator"[1] and a "Latinate Crocodile",[2] while 40 Years of Life on the Street calls him an alligator[3] and a 2019 tweet from Sésamo described him as a dragon.[4]
Gallery
Sources