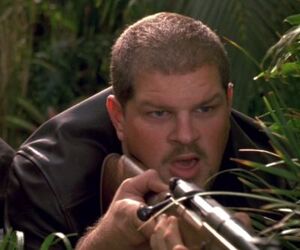 Abraham Benrubi (b. 1969) is a character actor known for his regular roles on ER and Parker Lewis Can't Lose. He played Thor, one of the poachers targeting An Ape Named Ape, in the Creature Shop-effects film George of the Jungle.
Physically imposing at over six feet tall, Benrubi made his TV debut in an episode of Growing Pains as "really big kid," setting his type early on. He was a regular on Parker Lewis as hulking but often gentle football player Larry "Kube" Kubiac and played similar types on Roseanne (a teenage Dan), Blossom, Married... with Children, and as a linebacker in the film The Program. He played hospital desk clerk Jerry Markovic on ER (appearing on and off throughout the show's run) and was a regular on Men in Trees but cast to type as Olaf the troll in two Buffy the Vampire Slayer outings.
Films include Wagons East (with John Candy), Twister, Without a Paddle (with Seth Green), The Man Who Wasn't There (with James Gandolfini), and Miss Congeniality 2: Armed & Fabulous. Benrubi has done voice work on Robot Chicken (often as Darth Vader or Optimus Prime), Big Hero 6, Rugrats: The Movie, and various World of Warcraft games.
External links
Community content is available under
CC-BY-SA
unless otherwise noted.