Written by
John Bright Russell and Voni Morrison
Date
1963
Publisher
Sony/ATV Tree Publishing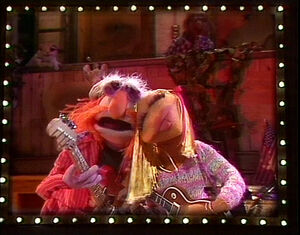 "Act Naturally," was originally recorded by Buck Owens and was later a hit for the Beatles in 1965. The upbeat song describes an aspiring movie star who thinks he can win an Oscar if he plays a "man who's sad and lonely" in a movie, because he "can play the part so well...All [he has] to do is act naturally."
The song was first performed by Gonzo as the UK Spot in episode 405 of The Muppet Show. Strumming his guitar, Gonzo sings to his reflection in a mirror. When his reflection starts singing back to him, Gonzo is surprised, asking why it isn't imitating him. The reflection counters that Gonzo does ludicrous things. (Of course he does. He's an artist!) Eventually, the two versions of Gonzo turn the song into a duet, during which Gonzo's reflection appears as a cowboy, a mariachi, and a clown.
The song was also performed as a duet between Floyd Pepper and Janice in The Muppets Go to the Movies.
Releases
Video
Community content is available under
CC-BY-SA
unless otherwise noted.