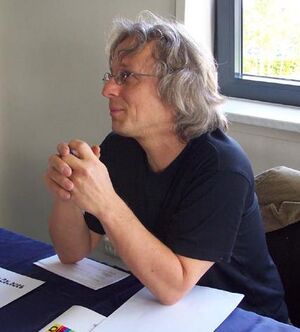 Ad Wammes (b. 1953) is a composer who created music and songs for several Sesamstraat albums between 1983 and 1985. He also played Sinterklaas on the record Sint Is Zoek!.
Wammes studied composition with Ton de Leeuw, Theo Loevendie and Klaas de Vries, piano with Edith Lateiner-Grosz and electronic music with Ton Bruynèl. He played keyboards with the symphonic rockgroup Finch. From 1986 to 2002, he composed, recorded, and performed the music for thirty-five serials for TeleacNOT.
In recent years, Wammes concentrated more and more on composing "concert music". His organ composition "Miroir" was his international breakthrough. It has been played all over the world by such renowned organists as Thomas Trotter, David Sanger, and John Scott and has already been recorded four times on CD.
Wammes is currently working on a three part educational serial for piano called Different Colours.
Sesamstraat Discography
External links