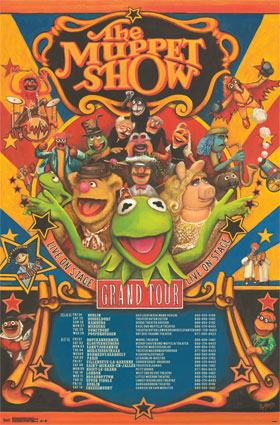 During the course of The Muppet Show, the Muppets conducted 119 performances of their unique variety stage show known as The Muppet Show (118 performances on stage at their theatre, and once at a local train station). Additionally, one episode of the television series saw a performance abruptly canceled in favor of holding auditions for new acts.
While The Muppet Show ended it's run on television in 1981, the Muppets have since revived their famous vaudevillian stage show a number of times in specials and movies, often with the same theme song (or a variation thereof).
The Muppet Show Comic Book continued the show in comic forum, including a story arc where the Muppets take their show on the road. Illustrated installments of the Muppet's stage show also appeared in The Muppet Show Book, Bo Saves the Show and The Phantom of the Muppet Theater.
Additionally, several "best of" compilations with various framing sequences have been released collecting clips from the original show.

See also