Line 9:
Line 9:
 

*Puppeteers include [[Paul Hartis]] and [[Peter MacKennan]].

 

*Puppeteers include [[Paul Hartis]] and [[Peter MacKennan]].

 

*The segment was recorded at Silver Cup Studios, instead of the usual [[Teletape Studios]].<ref name=pigs>[https://youtu.be/qqBqSTsLpn0?t=640 ToughPigs Presents CABIN FEVER with Sesame Street Writer Chris Cerf], May 6, 2020.</ref>

 

*The segment was recorded at Silver Cup Studios, instead of the usual [[Teletape Studios]].<ref name=pigs>[https://youtu.be/qqBqSTsLpn0?t=640 ToughPigs Presents CABIN FEVER with Sesame Street Writer Chris Cerf], May 6, 2020.</ref>

−

*Composer Chris Cerf recalled the group originally showed up the recording wearing risqué outfits. Producer [[Arlene Sherman]] disapproved and the group was given the outfits used in the final piece.<ref name=pigs />

+

*Composer Chris Cerf recalled the group originally showed up the recording wearing risqué outfits. Producer [[Arlene Sherman]] disapproved and the group was given the outfits used in the final piece.<ref name=pigs />

 
 
 

==Releases==

 

==Releases==
---
Latest revision as of 17:06, 7 May 2020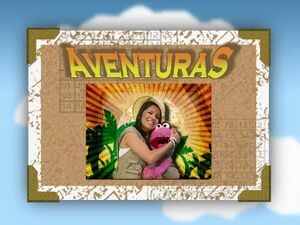 "Adventure" is a Sesame Street song sung by En Vogue that details an adventure they went on, meeting Elmo, The Count, Ernie, Oscar, some Honkers and Dingers and Super Grover. The Martians also make a short cameo.
The song was also performed on Plaza Sésamo with Lola and Alessandra Rosado in a 2006 episode, with altered lyrics to mention the non-American characters.
Notes
Puppeteers include Paul Hartis and Peter MacKennan.
The segment was recorded at Silver Cup Studios, instead of the usual Teletape Studios.[1]
Composer Chris Cerf recalled the group originally showed up to the recording wearing risqué outfits. Producer Arlene Sherman disapproved and the group was given the outfits used in the final piece.[1]
Releases
Audio
Video
Special
Online
Sources
Community content is available under
CC-BY-SA
unless otherwise noted.